We dedicate this third article to Pina, a small but charming village located in the Pla de Mallorca, not far from Algaida and Montuiri.
Pina is known for its quiet rural beauty and special local character, still maintaining an identity strongly rooted in agriculture.
General facts about Pina
.
Pina is a small village belonging to the municipality of Algaida in Mallorca. This territory covers an area of about 14km2 and is home to approximately 600 inhabitants.
Located 28 kilometers from the island's capital, Palma, Pina is connected to it via the main road linking the capital with Manacor.
The name Pina comes from the Latin term "Pinna", which means crag or rock. It is a very appropriate name for the village, as it is situated on a hill that stands out in the surrounding flat agricultural landscape.
The earliest documented settlements in the Pina region date back to the Talayotic period, a prehistoric culture that existed in the Balearic Islands from approximately 1300 to 100 BC.
During the Roman occupation, the area was incorporated into the Roman Empire as part of the province of Hispania. However, due to the rural nature of the region and its remoteness from major cities and trade routes, Roman influence in and around Pina was probably limited.
The arrival of the Muslims to the Balearic Islands in the 10th century brought significant changes. During this period, agriculture and irrigation improved notably, and Pina, as part of the "juz'a de Muntuy" (the present-day area of Montuiri), probably benefited from these advances.
The settlement of Pina, as we know it today, began to take shape after the Christian conquest of the island in 1229 by King James I of Aragon. During the subsequent repopulation and redistribution of the land, many of the towns and villages that exist on the island today, including Pina, were formed.
Today, several archaeological remains can still be found in Pina and its surroundings that testify to its long and varied history, from Talayotic constructions to vestiges of later times.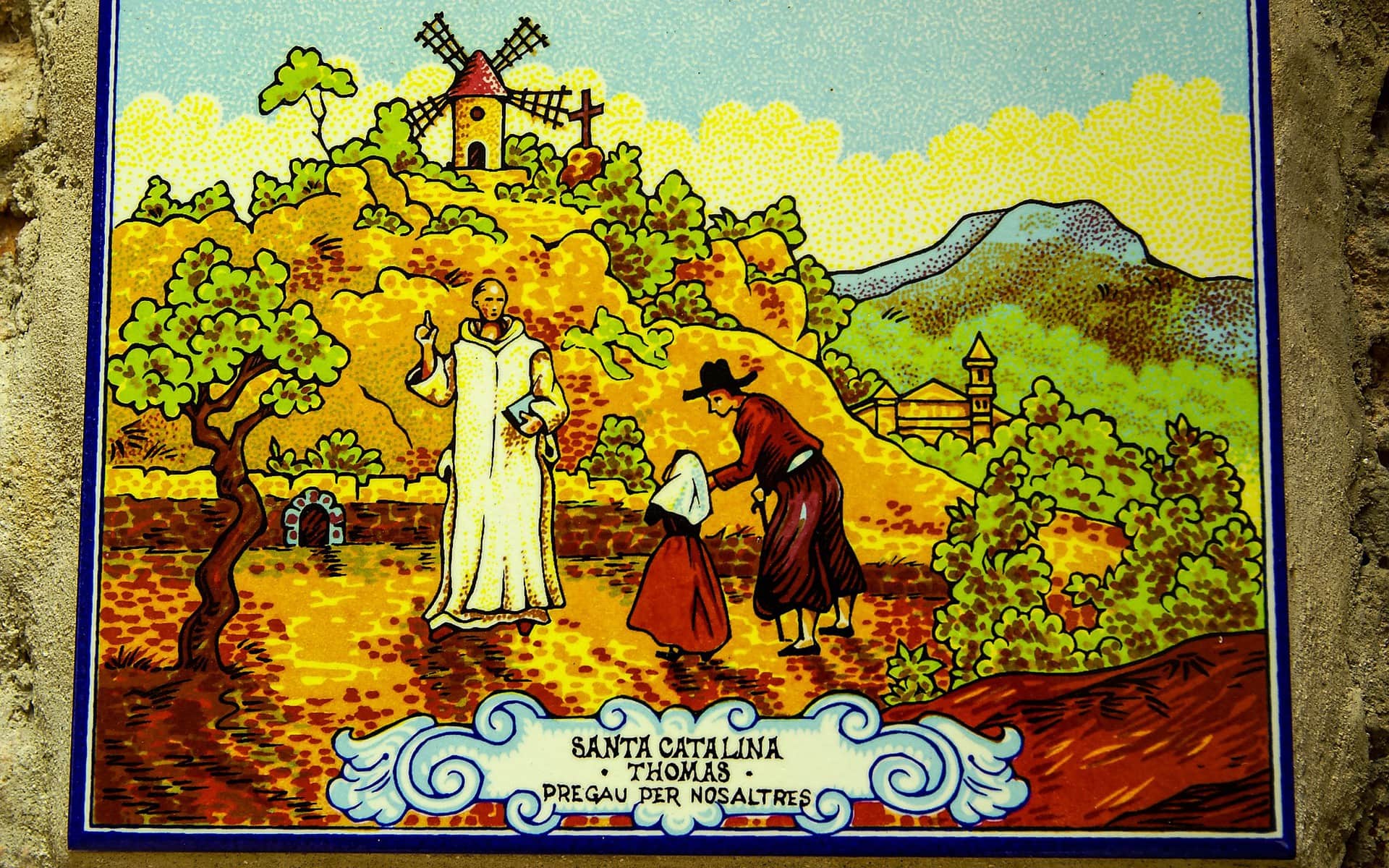 What is Pina known for
Although it is a small town, Pina has an impressive historical core. Walking through its narrow cobblestone streets, you can appreciate beautiful old stone houses, some of which date back to the 16th century. This architectural charm brings a unique atmosphere and rustic charm to the village.
Pina is renowned for its idyllic square, the Plaça de la Beata, which features a charming church, the Church of San Cosme and San Damián. This church, along with the surrounding area of the square, forms the core of village life.
Despite its size, Pina has a strong sense of community. Local events, such as the patron saint festivals and the weekly market, bring residents together and give visitors an authentic insight into life in Mallorca. In addition, the locals are known for their hospitality and friendliness.
What to visit in Pina
In addition to its picturesque square, Pina offers other attractions such as its beautiful rural landscape. Here you will be able to see a large number of old water wells that were used to irrigate the fields.
Sor Catalina Thomàs
Sor Catalina Thomàs, known as "La Beata", is a very important figure in the history of Mallorca. She was born on May 1, 1531 in Valldemossa and is the only officially recognized saint of the Balearic Islands.
Although she was born in Valldemossa, Sister Catalina Thomás has a strong connection with the town of Pina. After taking her vows and becoming a nun, she was transferred to the Convent of the Canónigas de San Agustín in Palma. During this time, according to tradition, she made numerous trips around the island, including frequent visits to Pina.
During one of these trips to Pina, it is said that Sister Catalina Thomás performed one of her famous miracles. While she was in the village, a great drought threatened the crops. The inhabitants of Pina asked Sister Catalina to intercede for them, and according to tradition, it miraculously began to rain, saving the town's harvest.
To commemorate this miracle, a stone cross, known as "Creu de la Beata", was erected in the place where it supposedly took place. Today, this cross is an important landmark in Pina and a constant reminder of the town's connection to Sister Catalina Thomás.
In addition, each year, Pina celebrates festivities in honor of La Beata. During these festivities, residents of Pina, as well as visitors from all over Mallorca, come together to celebrate her life and miracles with masses, processions and other activities.
It is worth mentioning that Sor Catalina Thomás was canonized by Pope Pius VI in 1792. Although her official day of celebration is April 28, the festivities in her honor are usually held at different times of the year depending on the town.
The Route of the Mills
In the surroundings of Pina, one can follow the "Ruta de los Molinos", a trail that runs through the old windmills that once dominated the island's landscape. Although many of these mills are no longer in operation, they still represent a vital part of Mallorca's history and identity.
Nature in Pina
For nature lovers, the surrounding areas of Pina offer many opportunities for walking and cycling. The open landscapes, full of almond, fig and carob trees, are especially beautiful in spring when the almond trees are in bloom.
The "Torrent de Pina" is an occasional watercourse that fills up after heavy rains, providing an unusual and beautiful spectacle in this generally dry environment.
Where to eat in Pina
The restaurant Es Celler de Pina is well known and appreciated on the island. It offers a variety of Mallorcan and Spanish dishes and is famous for its excellent paella. It also has a cozy terrace overlooking the village square.
Another restaurant is Ca'n Xiscos, where you will find the famous Spanish tapas and varied Mallorcan.
In addition to the mentioned restaurants, there are other places in the village where you can taste delicious local dishes. The "panades" and "robiols", two types of traditional cakes, are particularly popular during Easter and can be found at the local bakery.
Where to stay in Pina
Agroturismo Treurer
In this article we could not fail to tell you about our most ambitious project. Our boutique hotel built in the old houses, in the foothills of the Magic Mountain, integrates in perfect harmony with our environment. Here you can experience the world of extra virgin olive oil in a unique and privileged place in Mallorca.
If you want to know more about our project, here you can do it.
Markets and fairs
Although Pina is a small town, it has a weekly market held every Wednesday morning in the Plaça de la Beata. Visitors can find fresh local produce, as well as handicrafts and other products.
Pina's Fiesta Mayor, in honor of San Cosme and San Damián, is the town's most important celebration. It takes place at the end of September and features a variety of activities, including live music, dances and sporting events.
Pina is a small, quiet Mallorcan village that offers a unique opportunity to experience rural life on the island, away from the tourist hustle and bustle of the busier areas. With its rich history, beautiful scenery and charming local community, it is a place worth discovering.