The farm. The family. The history.
Our farm. Our family. Our history.
When you add our olive oil to a slice of bread, or when you dress a salad or sauté some vegetables with it, you're experiencing a tradition of thousands of years as well as treasuring the illusion of a family that works a land surrounded by the sea and illuminated by the sun.
The Miralles are a traditional family from Mallorca, an unbreakable and hard-working family, in which joys and sorrows and also common goals and dreams are shared, which makes them a united family living for the same purpose.
Joan Miralles, the family patriarch, is a person who had a dream 20 years ago. After years working in the tourism sector, he wanted to go back to his roots and contribute a natural, sustainable and healthy product to the community. He wanted to create a product that was calm, restful, pragmatic and valuable, that is, a product that aligned with the island's character that he loves so much.
The farm is not just a way they make a living from. This property is a meeting place, a reference point for the whole family. Following the Mediterranean tradition, they gather there on Sundays to share a meal, enjoy each other and keep up with the ups and downs of daily life.
When Miquel Miralles Jr. took over the farm management, he continued the path set by his father and incorporated elements that would allow a better marketing and packaging of the product, updating the illusion.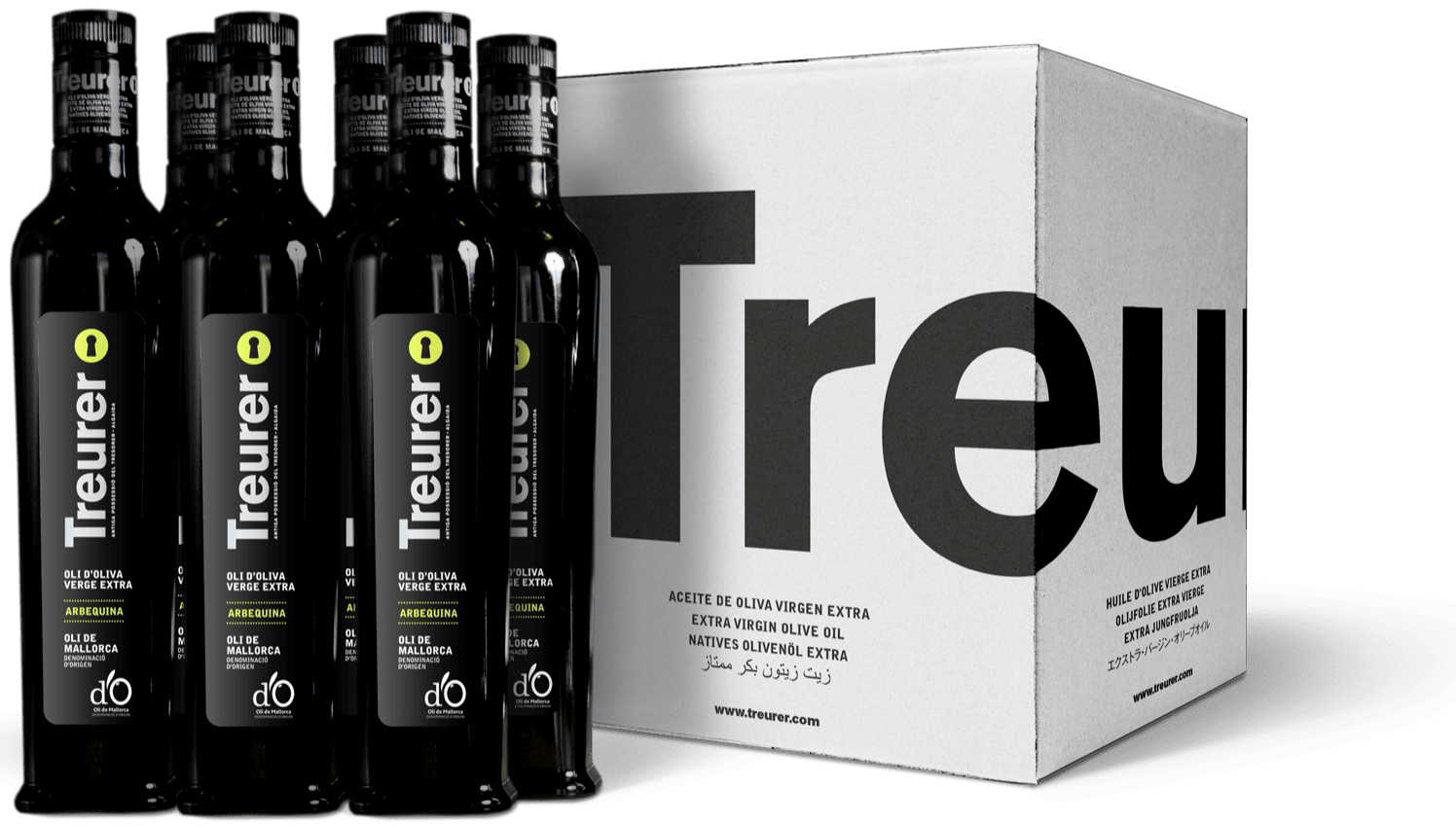 Box of 6 bottles of Treurer extra virgin olive oil
Treurer extra virgin olive oil is an oil from the Arbequina variety of olives, balanced, with moderate fruity, slightly spicy as well as bitter.
We want you to stay young and healthy. That is why we offer you a € 20 shipping per order, regardless the amount of boxes and their destination (only applicable in Europe). For shipments to UK, the cost will be 60€ and 120€ to the USA, also regardless of the number of boxes purchased. If the delivery is made in Spain, this cost will be 10€.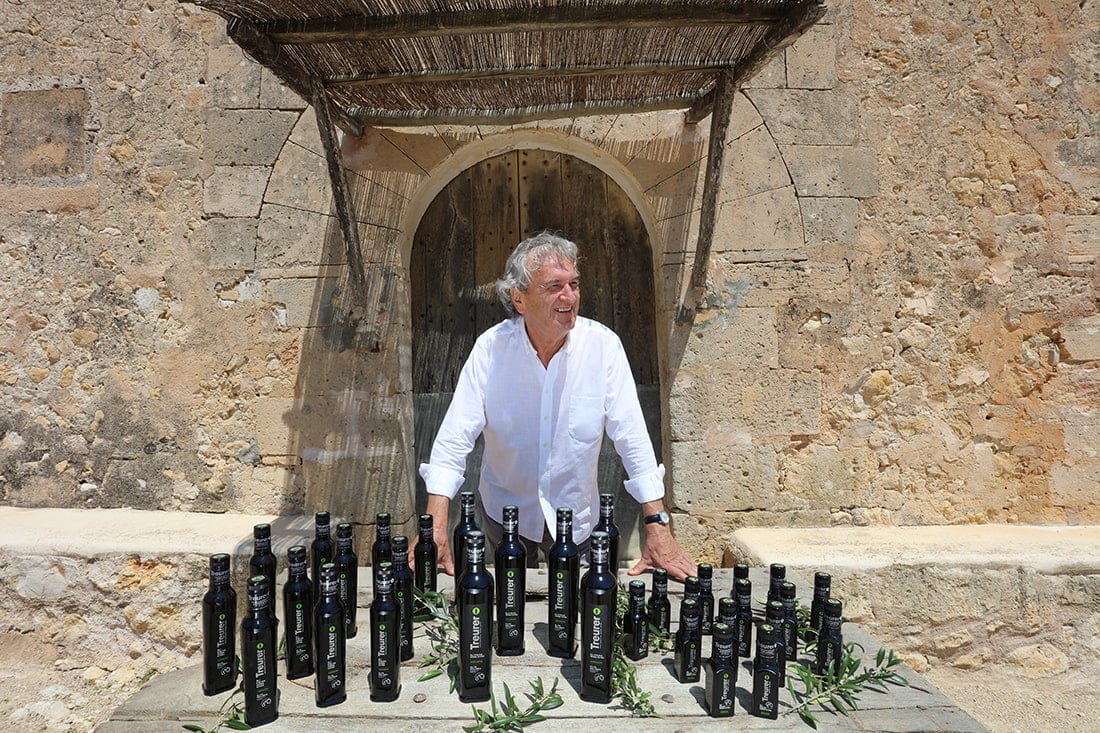 Treurer comes from the Majorcan word tresorer, which means 'the one who takes care of the treasure', usually the tax collector of the town hall.
The origin of the farm is ancestral. The first written reference is from 1603, when its owner and its value at the time are mentioned. Already in the past the farm was mentioned as a prosperous property.
At some point in its history it was part of another larger property, a time when the current houses were built as a home place for the 'garriguer' or guardian of the estate.
After going through the usual ups and downs between 1603 and 1745, in this late year became the property we know now with its 33 cuarteradas.
What we are as a person defines us as a company. We are a small Majorcan family business with deep-rooted traditional values, transmitted generation after generation, and which we have been able to adapt to the changes of each period in life.
We believe in effort and perseverance because we know that it is the only way to progress; we believe in unity because only with everyone's work  best results can be obtained; we believe in respect because only from respect strong pillars based on humility can be build; we believe that if we want the best for ourselves, we must first give our best.
We are fully aware of the need to take care of our planet. And there is something that is difficult to explain why, but at Treurer we have it, and it is a vocation for service.
In the villages of Mallorca until very recently it was common to have the doors of the houses open so that any friend or neighbour could enter without knocking. At Treurer we have our doors open, not only because we like to be seen from the interior, but also because we are proud of who we are.
Our property is located in the island's plain, also known as 'es Pla', which is placed almost in its centre, and the reason why this area has a more pronounced climate than the coastline, as well as colder winters and warmer summers.
The farm occupies 33 cuarteradas –unit of agricultural area in Mallorca that is equivalent to 234,399 m2. Approximately half of this area is dedicated to olive cultivation, while the rest is kept as pine forests or garriga (scrubland).
Joan Miralles, owner and creator of the farm business as well as Treurer's brand, tells us all about this farm origins, history and features.
Pere Miralles tells us about the techniques used to make the farm a sustainable framework and the reasons why they chose the Arbequina olive variety.
Pere Miralles, agronomist engineer