Deià is a picturesque village located on the northwest coast of Mallorca. Much more than a popular tourist destination in Mallorca, this small but charming enclave has long been a melting pot of cultures, a haven for artists and a corner of the Mediterranean where history, natural beauty and culture intermingle in a unique way.
Whether you are drawn to its rich Moorish history, its stunning mountain and seaside scenery, or its vibrant art and culinary scene, Deià has something to offer every visitor.
The purpose of this article is to provide a comprehensive guide to Deià, exploring its history, tourist attractions, cultural life, and more. You will discover the richness hidden behind its narrow cobblestone streets, stone houses and panoramic views, and understand why this small town has captured the imagination of so many people, from tourists to celebrities.
History
Origins
The etymology of the name "Deià" is not clearly established, but there are several theories and interpretations. One of the most common suggests that the name may derive from the Arabic word "Ad-Daya," meaning "village" or "small town," which would make sense given Mallorca's Moorish past and Deià's location as a small settlement.
The original settlement in the area where Deià now stands is believed to date back to prehistoric times, although records are scarce. The area showed signs of human activity since the Bronze Age, but it was really during the Roman occupation when it was consolidated as a small settlement.
In this period, Deià was already benefiting from its strategic location on the coast, serving as a small fishing port and perhaps as a trading post.
Moorish influence
One of the most interesting and least known stages in the history of Deià is the Moorish influence on its culture and architecture. After the Muslim conquest of the island in the 10th century, the Deià area became an important agricultural center under Islamic rule.
Advanced irrigation techniques were introduced, and the architecture of the village reflects the influences of this period to this day, as can be seen in the ancient stone buildings and the design of its narrow streets. Although the Muslim presence on the island ended in the 13th century with the Aragonese conquest, their legacy remains a fascinating part of Deià's cultural heritage
Development over the years
The development of Deià experienced remarkable growth during the Middle Ages, especially with the conquest of Mallorca by the Kingdom of Aragon in 1229. Over the centuries, the town went through different stages of agricultural and fishing development, becoming a modest but prosperous commercial and fishing center.
During the 18th and 19th centuries, Deià began to receive its first illustrious visitors, such as artists and writers who were captivated by its beauty and tranquility. This was the beginning of the town's relationship with the artistic and cultural community, which was to be strengthened in later years.
Tourist attractions
Cala Deià
The Cala de Deià is one of the brightest jewels of this picturesque village. Located a few kilometers from the center of town, this small pebble beach offers a serene retreat facing the Mediterranean Sea.
The crystal clear waters are ideal for swimming and snorkeling, and the setting surrounded by limestone cliffs provides an almost magical backdrop. Visitors can enjoy a meal at one of the beachfront restaurants or simply bring a towel and a book to relax in the sun.
Cala Deià is not only a place to sunbathe, but also a starting point for various water activities such as kayaking and paddle surfing.
The Church of Deià
The Church of Deià, located at the highest point of the village, is another tourist attraction that cannot be overlooked. This historic building offers a mix of architectural styles that reflect the various cultural influences that have left their mark on the village.
From its elevated position, visitors can also enjoy panoramic views of Deià and the surrounding countryside. The church is particularly popular during sunset, when the last lights of the day illuminate the building and the view of the sea and mountains becomes a breathtaking spectacle.
Scenic viewpoints
If there's one thing to spare in Deià, it's breathtaking views. In addition to the view from the church, there are several scenic viewpoints that offer unparalleled panoramic views of the surrounding area.
One of the most popular is the Mirador de Sa Foradada, which offers views of the peculiar perforated rock that gives the place its name, as well as the Mediterranean Sea stretching to the horizon.
These viewpoints are perfect spots for photography enthusiasts, nature lovers or simply anyone who wants to take a moment to appreciate the beauty of the land and sea that make up this unique corner of Mallorca.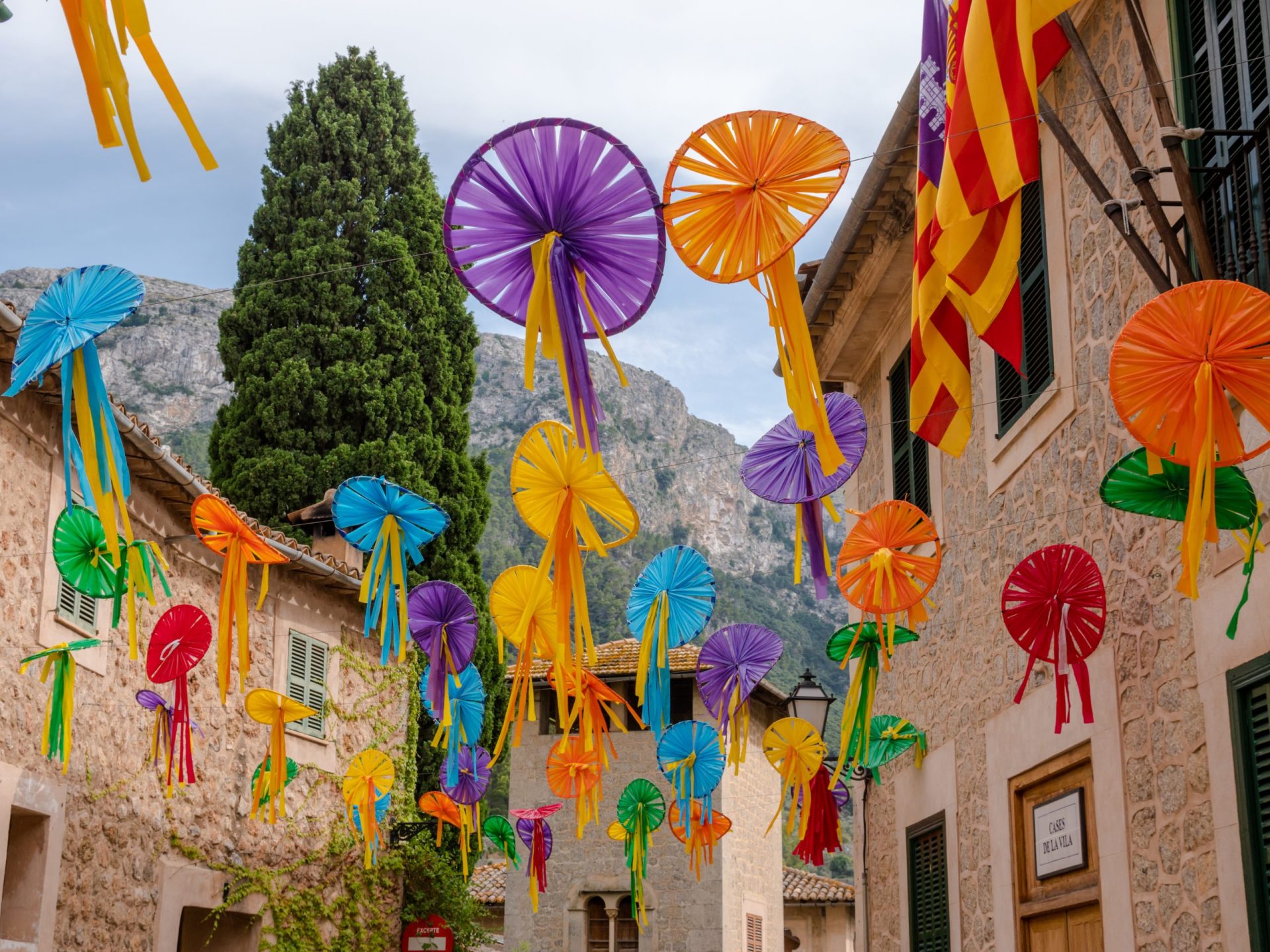 Cultural life
Festivals and events
Deià is not only a paradise for nature lovers; it is also a hive of cultural activity, especially during the summer months.
One of the most prominent events is the "Festival de Deià", an annual gathering celebrating music, dance and visual arts. The event usually attracts both local and international artists and spectators, turning the town into a cultural melting pot for its duration.
In addition, the patron saint festivities of San Juan and the Crafts Fair are other events that fill the streets with color, music and tradition.
Galleries and workshops
Deià has historically been a haven for artists, and that is reflected in the abundance of art galleries and workshops that adorn its narrow streets.
These spaces offer a variety of works ranging from traditional painting and sculpture to contemporary and experimental art.
Visitors have the unique opportunity to meet local artists, learn about their creative process and even purchase a piece of art as a souvenir of their visit.
Music and entertainment
Music is an integral part of life in Deià. Several bars and restaurants offer live music during the evenings, adding a vibrant layer of entertainment to the town's already rich cultural variety.
The variety of musical genres to be found is a reflection of the cosmopolitan character of the place, as artists from all over the world have spent time in Deià, leaving their influence on the music scene.
Famous people in Deià
Robert Graves
Without a doubt, one of the most famous residents of Deià is the British writer and poet Robert Graves.
Known for works such as "I, Claudius" and "The Greek Myths", Graves moved to Deià in 1932 and found in this idyllic village a refuge and a source of inspiration for his creativity.
His house, known as "Ca n'Alluny", has become a museum and literary study center that attracts visitors and scholars alike. Graves' influence on Deià's intellectual and artistic community is incalculable, and his legacy lives on in the spirit of the place.
Other notable residents and visitors
Deià has been a magnet for numerous artists, writers, musicians and public figures over the years. British actress Angharad Rees, known for her role in the series "Poldark", is another famous resident who chose Deià as her home. In addition, musicians such as Mike Oldfield, who spent time in Deià while working on his "Tubular Bells" album, have also been attracted to the bohemian and creative atmosphere of the place.
Painter David Templeton and author Anaïs Nin are just a few more examples of creative figures who found in Deià both a refuge and a muse.
The village has also been visited by celebrities from the world of film and music, who often choose Deià to escape the hustle and bustle of their public lives and enjoy its tranquility and natural beauty.
The list of notable names who have lived or spent time in this charming village include:
Keith Richards and Charlie Watts: Members of the iconic band The Rolling Stones.
Michael Douglas and Catherine Zeta-Jones: Internationally renowned actors who have been seduced by the beauty of Deià.
Jorge Luis Borges: The famous Argentine writer also spent time in this Mallorcan enclave.
Ava Gardner and Anäis Nin: Both iconic women in the world of film and literature respectively.
Stephen Hawking: The renowned physicist also enjoyed the serene atmosphere of the place.
Gertrude Stein: A key figure in modernist literature.
Archduke Ludwig Salvator of Habsburg and Empress Sissi: European nobility also found sanctuary in Deià.
Joaquín Mir, Santiago Rusiñol and Manuel de Falla: Spanish artists and musicians who found inspiration in the Mallorcan landscapes.
Julio Cortázar and Gabriel García Márquez: Great names of Latin American literature.
Andrew Lloyd Webber: The British composer has also immersed himself in the tranquility of Deià.
Jack Nicholson, Kate Moss, Susan Sarandon, Tim Robbins and Tom Hanks: Figures from the world of entertainment who have chosen Deià as their getaway spot.
The presence of these personalities brings an aura of mystery and fascination to Deià, making it not only a place of incredible natural beauty and cultural richness, but also a meeting point for some of the world's brightest and most creative minds.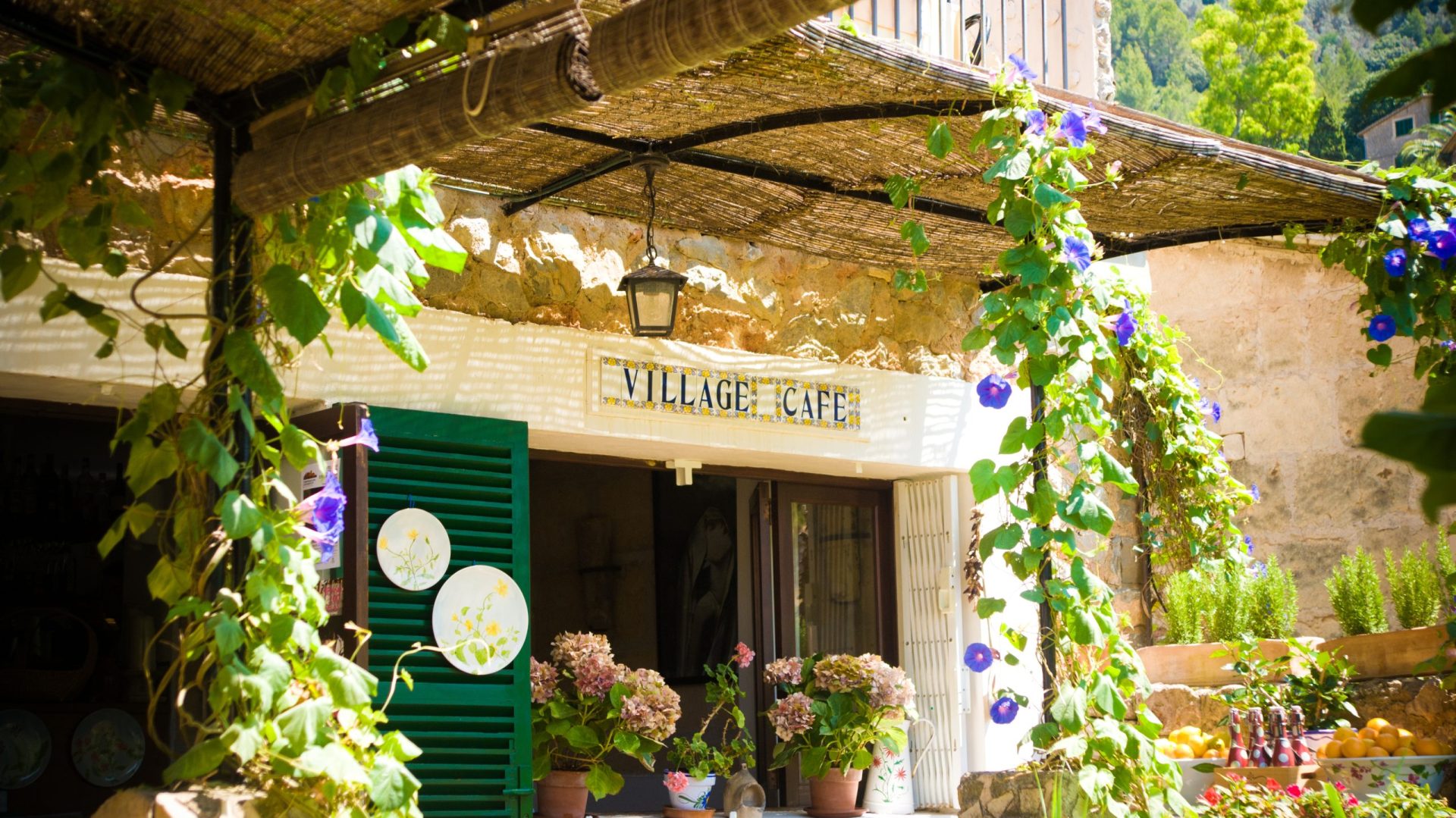 Local cuisine
Deià's gastronomy is as rich and varied as its history and culture. Located in a privileged natural environment, the town offers a wide variety of fresh ingredients used in its traditional cuisine. From fish and seafood to seasonal vegetables, the flavors of Deià reflect its Mediterranean heritage.
Typical dishes
One of the most representative dishes of Deià (and all of Mallorca) is "frit mallorquí", a mixture of liver and other organs of pork or lamb, seasoned with onions, peppers and potatoes. It is a rustic dish that reflects the agricultural heritage of the area.
Another dish that cannot be missed on any visit to Deià is "tumbet", a kind of vegetable lasagna that combines eggplant, potatoes and red peppers in a succulent tomato sauce and extra virgin olive oil.
The proximity of the sea also makes fish and seafood an essential part of the local diet. Fresh fish dishes such as "merluza a la mallorquina" or "caldereta de langosta" (lobster stew) are not to be missed.
Recommended restaurants
Restaurant Sebastián: this elegant restaurant is known for its haute Mediterranean cuisine and excellent wine selection. Located in a 17th-century stone house, it offers a cozy and romantic atmosphere, ideal for a special dinner.
Ca's Patro March: located in Cala Deià, this informal restaurant is perfect for enjoying lunch overlooking the sea. It is especially known for its seafood dishes, such as its famous "seafood paella."
Café Med Mallorca: Café Med in Fornalutx (very close to Deià) is an advocate of the Mediterranean lifestyle and sustainability. Their menu changes regularly to reflect fresh seasonal produce, much of which is grown in their own Mediterranean garden called "Garden Es Más". This garden is the source of all the fruits, vegetables and salads served in the restaurant, underscoring its commitment to sustainable and environmentally friendly practices.
How to get there
Getting to Deià is part of the experience of visiting this charming Mallorcan village. Although it is in a relatively remote location, there are several ways to reach the village, ranging from public transport to driving your own car.
Public transport
Bus: Deià is connected to the city of Palma de Mallorca and other nearby places such as Sóller and Valldemossa via a bus network. Line 203 is the most direct from Palma and usually takes about an hour. Buses are relatively frequent during high season, but it is advisable to consult timetables in advancev, especially if you are travelling out of season.
Train and bus combined. Another option is to take the historic Sóller train from Palma to Sóller, then take a local bus to Deià. This option is particularly scenic and allows visitors to experience two of Mallorca's most popular destinations in one trip.
Car
From Palma: Deià is located about 33 kilometers north of Palma. The quickest way to get there is via the MA-1110 road, which is a direct but winding route that offers some of the most spectacular views on the island. Be aware that the road is narrow and can be tricky for drivers unaccustomed to mountainous roads.
Car rental: If you prefer the flexibility to explore the region at your own pace, renting a car is an excellent option. There are several car rental companies in Palma and at the airport. Be sure to book in advance during high season to ensure availability.
Parking: Deià is a small town and parking can be limited, especially during high season. Some hotels offer parking to their guests, but if you plan to explore the town on foot, it is advisable to arrive early to find a place to park.
If you have ever wondered why such diverse figures as Robert Graves, Kate Moss and Stephen Hawking were attracted to this corner of Mallorca, the answer is simple: Deià is a place where natural beauty meets cultural richness in a timeless symphony that touches the soul of all who have the privilege of experiencing it.