The markets of Mallorca are one of the biggest attractions for those who visit our towns. Buying traditional agricultural products of the island directly from the farmer, filling the pantry, enjoying a morning outdoors and getting to know the village are reasons enough to visit the market.
Visiting a traditional market in an inland village of Mallorca in spring or summer is an explosion of color. Vegetables, fruits and flowers give the market aromas and colors, while sausages and bread are a necessary part of the market. Leather goods or cutlery will get us out of a hurry if we need a tool and we do not have it at hand.
Undoubtedly, a visit to a market in Mallorca is an excellent complement to the cultural activities during your stay in Mallorca.
The 14 markets of the Pla de Mallorca
What can we find in a market in Mallorca
Recommendations if you are going to visit a market.
List of markets in the Pla de Mallorca by town.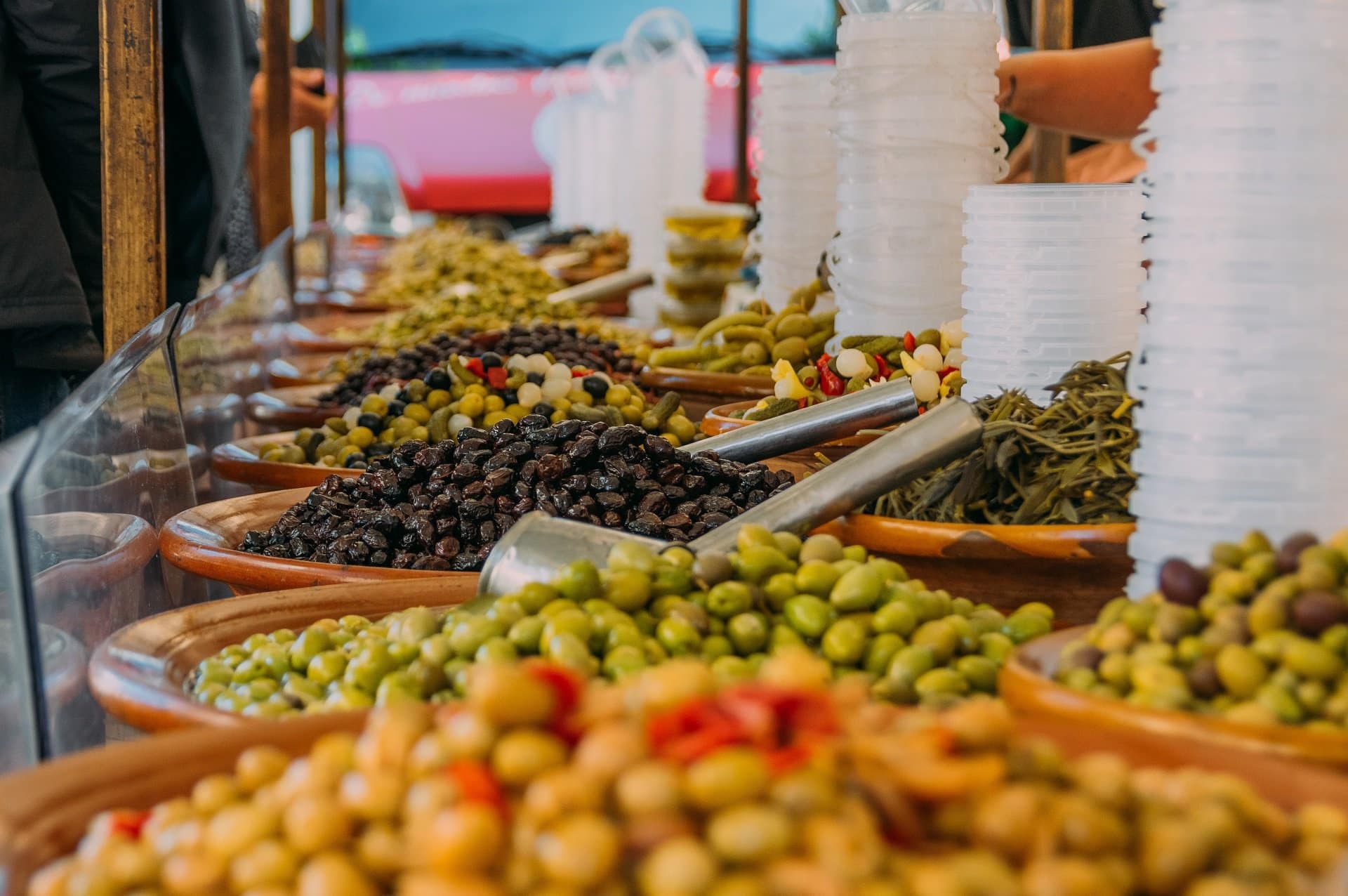 What can we find in a Mallorcan market
Traditionally who has occupied the stalls have been the farmers, called in Mallorca "payeses". One day a week they load their vans with seasonal products and go to the villages to provide their inhabitants with food.
On some occasions the payés attend the market with plants, usually flowers or live animals for sale, although in this case, they are becoming increasingly scarce.
Other local producers of sausages, spices, wines, oil or honey joined the call of these farmers. If the village has an enclosed market building, inside you can find stalls selling meat, fish and seafood.
If the market is large enough, the stalls will be joined by clothing and footwear sellers. For the last few years we will also find people, generally Africans, selling leather goods (belts, bags), jewelry or socks.
The usual items, depending on the season are
Vegetables. Being local products, vegetables vary a lot with the season. Tomatoes, onions, peppers, garlic, chard, lettuce, carrots, mushrooms (in season), cucumbers.
Fruit. As with vegetables, you will find great variation in fruit according to the season. Watermelon, melon, nectarine, apricots, peaches, loquats, lemons, oranges.
Dried fruits. This is a classic of the markets in Mallorca. There is no self-respecting market that does not have several stalls with almonds, caramelized almonds, dried apricots, raisins (dried grapes), dried figs, dates, etc… Possibly it is a taste inherited from the Arab domination.
Sausages. Among the local traditional ones are sobrasada, botifarrons, botifarra, Mallorcan and Menorcan cheese. In addition, they usually combine it with other sausages from the rest of Spain, such as Manchego cheese, Serrano ham, chorizo, longaniza.
Plants. Outdoor varieties adapted to the Mediterranean climate predominate, such as thyme, lavender and rosemary. You will also find aromatic plants such as sage, herb sana or romerillo, mint or hierba buena and flowering plants such as ibiscus, bougainvillea, geraniums, plumbago and jasmine.
Handicrafts. In the large markets you will find local handicrafts. Llengos (traditional Mallorcan cloth), ossiols (flowerpots), senalles (baskets to go to the market, very practical also to go to the beach). The crafts that you will find are usually a modern reinterpretation of the traditional crafts of the area made by young people.
Recommendations before visiting a market in Mallorca
If you are not used to visit markets in Mallorca, it is good to take into account some recommendations before visiting the market. Some of them are common to all the markets in the world while others are specific to the local idiosyncrasy.
Go to the market early in the morning. The price of the products will not vary during the day and the best quality products are purchased by the first visitors.
Parking is not always easy, as there are very popular markets, especially those held on Sundays. This is another reason to visit the market early in the day.
Come with enough cash to buy what you need. Most vendors do not accept other forms of payment, including credit cards.
The vendors, especially the food vendors, do not usually speak English, but you will have no problem understanding each other.
Take advantage of the visit to sit on a terrace in the village, usually in the same square where the market is located, and taste a typical dish or drink. Pa amb oli, varied, herbal liqueur or palo are the traditional ones of the Mallorcans at mid-morning.
List of markets of the Pla de Mallorca by village.
Montuïri. Monday from 08:30h to 13:00h.
Lloret de Vistalegre. Monday from 08:30h to 13:00h.
Llubí. Tuesday from 08:30h to 13:00h.
Porreres. Tuesday from 08:30h to 13:00h. Plaça de la Vila.
Petra. Wednesday from 08:30h to 13:00h,
Sencelles. Wednesday from 08:30h to 13:00h.
Sineu. Wednesday from 08:30h to 13:00h.
Vilafranca de Bonany. Wednesday from 08:30h to 13:00h.
Ariany. Thursday from 08:30h to 13:00h.
Sant Joan. Thursday from 08:30h to 13:00h.
Algaida. Friday from 08:30h to 14:00h. Plaza Major.
Maria de la Salut. Friday from 08:30h to 13:00h.
Costitx. Saturday from 08:30h to 13:00h.
Santa Eugènia. Saturday from 08:30h to 13:00h.
Staying at our hotel in Pla de Mallorca as the center of your visits to the island can be a good idea. If you are going to spend a few days with us, we will be happy to explain you the best options to visit markets in Mallorca, depending on your interests.