November is a month when temperatures are still pleasant and the frenetic pace of summer has slowed down. Beaches, once crowded, now offer ample space to relax. Tourist sites, once crowded, now allow for a more personal and less rushed experience.
In this article, we will explore Majorca in November. From the activities you can do, to the local gastronomy of this season and useful tips to make the most of your visit. If you are looking for a more serene and genuine experience in Majorca, November may be the perfect month for you.
Climate in Majorca in November
Majorca, being the largest island of the Balearic archipelago, enjoys a Mediterranean climate that offers mild winters and warm summers. However, as one moves towards November, the island experiences a noticeable change in its climate, marking the beginning of the coolest period of the year.
Temperatures in November in Majorca tend to vary between 10°C and 20°C. Although some days may reach slightly higher temperatures, in general, the weather feels cool, especially during the evenings. It is advisable to pack warmer clothing if you plan to go out after sunset.
November marks one of the rainiest times of the year for Majorca. Although rain is not expected every day, you are likely to experience several days with intermittent showers or downpours. It is advisable to always carry an umbrella or waterproof jacket, especially if you are going to do outdoor activities.
Despite the possible rain, Majorca still enjoys a good number of hours of sunshine in November. The days are beginning to shorten, but you can still expect 10 hours of direct sunlight a day.
The sea in November has already started to cool down, and water temperatures hover around 18°C to 20°C. Although some brave souls still venture out for a swim, most visitors prefer to enjoy the beach for a walk or just relax on the sand.
While November does not offer the intense heat and long sunny days of the Mallorcan summer, it is an ideal month for those looking to avoid the crowds and experience a quieter, more authentic version of the island. Outdoor activities such as hiking, biking and visits to local wineries can be fully enjoyed, thanks to the cooler temperatures.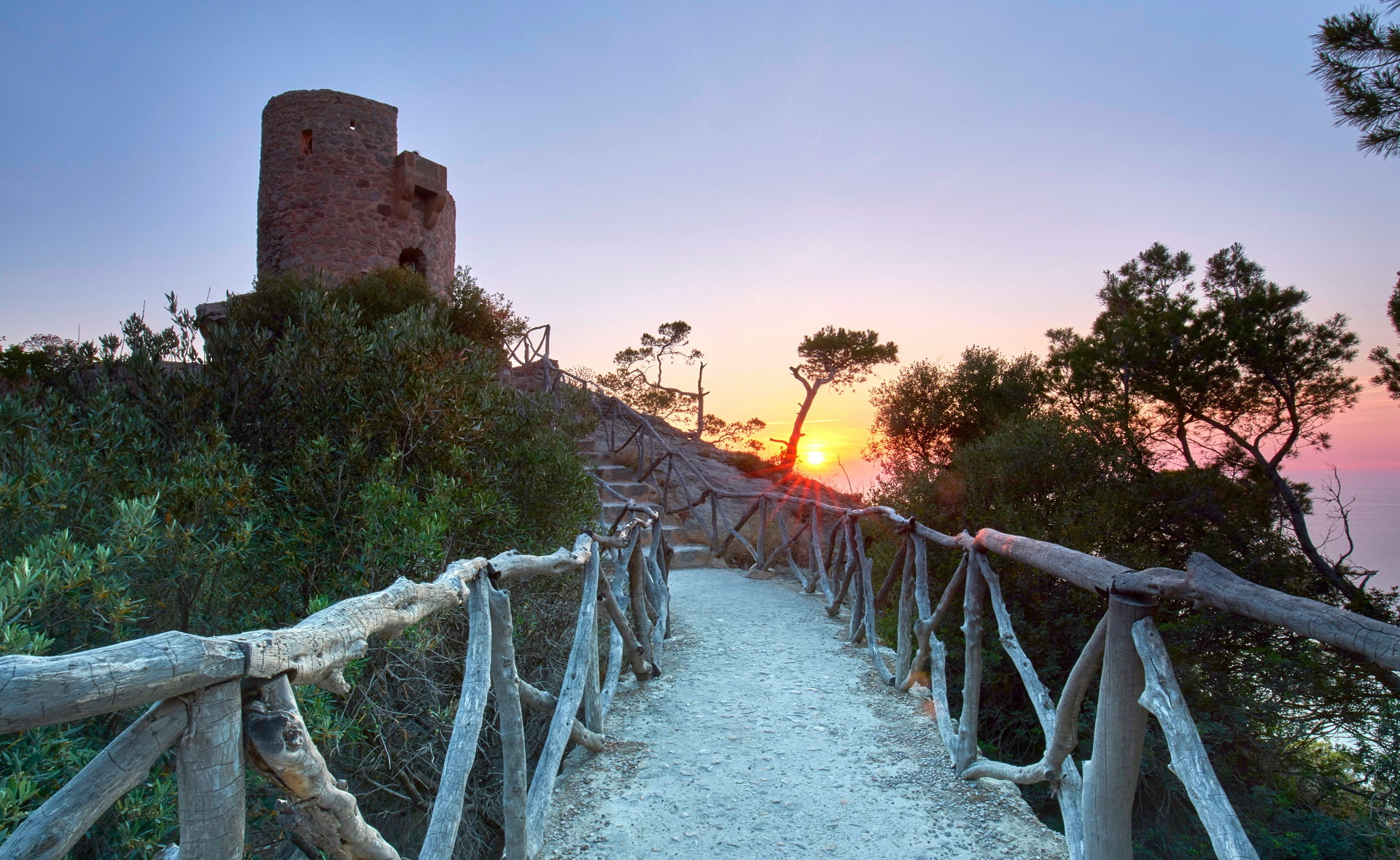 November in Majorca, time for gastronomy
November in Majorca marks the beginning of autumn and with it, the transition to a more comforting seasonal cuisine rich in flavors. The cooler weather influences the dishes that are cooked and served, making it the ideal time to sample some of the local specialties. Here I give you an overview of the seasonal cuisine in Majorca during November:
Soups and Stews: This is the time of the year when soups and stews become more popular. One of the most traditional is the "sopa mallorquina", which has bread, vegetables and sometimes lamb or rabbit meat. This thick and nutritious soup is perfect for colder days.
Meat: Preparations with meat, especially lamb and pork, gain prominence. The "frit mallorquí" is a traditional dish that combines lamb or pork offal with potatoes, red peppers and other vegetables.
Sea products: Despite the drop in temperatures, fishing is still abundant. Sóller red prawns, sardines and "cap roig" (scorpaena scrofa) are some of the delicacies you can expect to find on the menus.
Mushrooms: Autumn is mushroom season in Majorca. In the market or in restaurants, it is common to find dishes that include local varieties such as "esclatasangs" or rovellons.
Desserts with nuts: Nuts, especially almonds, play a leading role in Mallorcan pastries. In November, it is typical to enjoy sweets such as "gató", an almond cake, or "panellets", small balls made from almonds and sugar, traditionally prepared for the feast of All Saints.
Olives and olive oil: It is not uncommon to find dressed olives as an appetizer in many establishments, and fresh olive oil begins to make an appearance, with its purest and most aromatic flavor.
Local wines: After the grape harvest, the wineries are in full swing. It's a good time to taste the young wines of the year or discover indigenous varieties such as manto negro.
Seasonal fruits: Although many summer fruits are no longer available, November brings with it fruits such as persimmons, quinces and pomegranates, which are integrated into the cuisine whether in main dishes, desserts or jams.
Using the ingredients that are typical in Majorca during November, a number of traditional or reinvented dishes can be made that capture the essence of the island during this month. Here are some examples of dishes made with seasonal ingredients:
Majorcan mushroom soup: A variant of the island classic, using local mushrooms as "esclatasangs". It is prepared with pieces of Majorcan brown bread, fresh mushrooms, pork loin, white cabbage and butifarrón.
Lomo con col: This is pork loin rolled in cabbage leaves and slowly cooked with a white wine, garlic, onion and bell pepper sauce. This dish is comforting and especially tasty on cooler days.
Panadera de "Cap Roig": A traditional stew made with this native fish, accompanied by potatoes, onion, garlic, bell pepper, tomato and fish stock. It is seasoned with paprika and saffron for a more intense flavor.
Mallorcan frit with artichokes: A variant of the traditional Mallorcan frit incorporating fresh seasonal artichokes. It is accompanied by potatoes, liver and pork or lamb meat, and seasoned with aromatic herbs.
Almond and quince cake: A dessert that combines the soft texture of cooked quince with the deep flavor of almonds. It can be garnished with powdered sugar and accompanied by a scoop of vanilla ice cream or whipped cream.
Panellets of different flavors: In addition to the classic almond panellets, they can be made with flavors such as coconut, chocolate, coffee or even with a touch of local liqueur, offering variety and showing the versatility of this sweet.
Rice with Sóller prawns and mushrooms: A comforting and aromatic dish, where rice is cooked with a tasty fish stock, fresh Sóller prawns and seasonal mushrooms, achieving a delicious combination.
The "ensucrats"
The "Rosari ensucrat" is a very particular tradition of the Balearic Islands, especially Majorca, which is usually made around the feast of All Saints and All Souls Day. This edible rosary is a symbolic and sweet way of remembering those who are no longer with us.
The "Rosari ensucrat" is made with a series of traditional sweets joined together, forming a rosary. Each "decena" of this rosary is composed of 10 round "galletes" (cookies), which simulate the beads, separated by "llarguets" (elongated) that would represent the "padrenuestros" (Our Fathers). In addition, other elements are incorporated such as the "pilotes" or large balls that allude to the larger beads of the rosary.
The paten is a crucial element in this edible rosary. It is a larger piece that closes or crowns the rosary. It is like a large, more elaborate cookie, representing the paten used in the Christian liturgy. In many cases, this paten is decorated with religious images made of sugar or even inscriptions.
In the tradition of the "Rosari Ensucrat" in Majorca, the paten that closes the sweet rosary is usually made of candied pumpkin, as well as other candied fruits that make up the rosary. However, its size is larger and it may have a slightly different shape, being more elaborate.
The surface of the paten may be decorated with icing or powdered sugar, and often bears religious images or inscriptions made of sugar, or it might even have a small candy or sugar cross in the center.
Apart from the candy rosaries, during these dates it is also traditional to consume other sweets such as "panellets", small cakes made of almonds, sugar, egg and potato or sweet potato. These sweets, together with the "Rosari ensucrat", make the festivity of All Saints and All Souls Day in Majorca a moment full of flavor and tradition.
The symbolism behind the "Rosari ensucrat" is profound, combining the religious and gastronomic tradition of Mallorca in a single object. By gifting or sharing this sweet rosary, it encourages the remembrance of loved ones and the importance of faith.
It is a tradition that has endured over the years and is still kept alive in Majorcan families, who year after year make or buy these rosaries to share on these special dates. The paten, as the closing of the rosary, symbolizes the centrality of the Eucharist and recalls the importance of communion and recollection in the Christian faith.
Visit to Finca Treurer during the month of November
November in Majorca is a magical month. As the landscape is tinged with autumn colors and the island prepares to receive winter, Finca Treurer emerges as one of those corners where the Majorcan essence is at its peak. A visit to this estate in November is not only a tour of its facilities, but also a journey through traditions, flavors and landscapes that define Majorca in autumn.
The autumn landscape: Treurer's century-old olive tree, with its twisted branches and leafiness, looks majestic against the backdrop of a cloudy or clear blue sky. The ground covered with fallen leaves and the fresh Mediterranean air make a stroll through the estate a revitalizing experience.
New oil tasting (Novell): One of the greatest pleasures of visiting Treurer in November is the opportunity to taste the "Novell" oil. This oil, freshly pressed, stands out for its freshness and intense flavor. Accompanied by a piece of Majorcan bread, it is a delight that everyone should experience.
Seasonal cuisine: After a tour of the estate, visitors can enjoy a lunch based on Mallorca's seasonal cuisine. November brings with it an array of fresh, indigenous ingredients, from wild mushrooms to seasonal fruits, which are incorporated into delicious traditional dishes.
Farm store: Before ending the visit, a stop by Treurer's store is a must. Here, visitors can purchase extra virgin olive oil produced on the estate, as well as cosmetics based on the extra virgin olive oil itself.
To visit Finca Treurer in November is to immerse yourself in an authentic Majorca, far from the tourist hustle and bustle of summer. It is an opportunity to connect with the land, with tradition and with the pure essence of the island.
Recommendations for travel to Majorca in November
Adequate clothing: Although temperatures are usually milder in November, it is advisable to bring warm clothes for the evenings and some waterproof clothing in case of occasional showers.
Comfortable footwear: Outdoor activities are ideal at this time of year, so good footwear is essential, especially if you have in mind to explore the mountains of the Serra de Tramuntana.
Book in advance: Although November is not considered high season, some places and hotels may be closed, so it is a good idea to book accommodation and activities in advance.
Rental car: To explore the island at your own pace, consider renting a car. The roads are in good condition and will allow you to discover less touristy corners.
Taste the seasonal cuisine: In November, many local restaurants offer menus based on seasonal products. Don't miss the opportunity to try delicacies such as "tumbet" or desserts made with "angel hair".
Participate in local festivities: November is a month when traditions such as All Saints' Day and All Souls' Day are celebrated. It is a unique opportunity to experience the local culture.
Nature activities: Mild temperatures make November an excellent month for hiking, cycling or simply strolling along the beach. Consider visiting the Natural Park of s'Albufera or the nature reserve of Mondragó.
Cultural visits: It is the perfect time to visit places of interest without the crowds of tourists. Museums, palaces and historic buildings, such as the Royal Palace of La Almudaina or the Cathedral of Palma, are a must.
Travel with caution: Although Mallorca is generally safe, it is always advisable to follow the usual security measures, such as keeping valuables in safe places and being alert in crowded areas.
Respect for the environment: Majorca's natural beauty is one of its greatest attractions. Be sure not to leave trash behind and follow local rules to preserve the island in its pristine state.
Participate in wine activities: November can be a good time to visit the island's wineries and learn about local wine production.
With these recommendations, your trip to Majorca in November will be an unforgettable experience, combining the natural beauty of the island with its rich tradition and culture. Enjoy your trip!