Pla de Mallorca is one of the regions of the island where you will find a large number of bars and restaurants where you can taste rustic dishes from Mallorcan and Mediterranean cuisine. Many of these restaurants, rebuilt in old wineries (cellers mallorquins) or in traditional houses and possessions, you can try delicious dishes and wines, but also signature and creative cuisine.
The restaurants of Pla de Mallorca with delicious dishes and wines.
Celler Sa Torre de Santa Eugenia.
Brut Restaurant, Llubi.
Restaurant S'Hostal d'Algaida.
Sa Casa Mallorquina, Algaida.
Celler Bar Randa.
Santuari de Cura Restaurant.
Sa Cuina De N'Aina, Sencelles.
Es Celler de Petra.
Antic Celler Son Toreo, Sineu.
Celler Can Font, Sineu.
1. Celler Sa Torre de Santa Eugenia.
In the municipality of Santa Eugenia, in an old manor house in the Pla de Mallorca, you will find Sa Torre, a family farmhouse that offers nature and tranquillity, but also a Celler converted into a haute cuisine restaurant. In this winery, where the traditional decoration has been preserved, they have a tasting menu that changes weekly, thus demonstrating the chefs' capacity for innovation.
In addition to enjoying an incredible atmosphere in which you'll breathe the Majorcan past of the area and enjoying an exceptional menu, at Celler Sa Torre you'll be able to choose one of the Spanish or Majorcan wines from their private collection, among which there is one of their own harvest, the Natiu finca Sa Torre.
2. Brut Restaurant, Llubi.
This restaurant offers a luxurious tasting experience. With capacity for twelve people, Brut is characterized by a contrasting cuisine based on small producers where local, fresh and seasonal products are essential. Plus, their dishes pair perfectly with craft beer or kombucha, or a select variety of wines.
The fusion of traditional and contemporary techniques characterizes the preparations made in this restaurant where. On the other hand, you will be able to enjoy a cosy and private atmosphere, ideal for very special occasions.
3. Restaurant S'Hostal d'Algaida.
If what you want is to try Majorcan cuisine specialties such as sopes, tumbet or pa amb oli, this is one of the best restaurants in Pla de Mallorca that will offer you these dishes. This cosy restaurant with antique decoration has been offering its services since 1961. Since then they have become known for elaborations such as fried Majorcan, snails and porcella (pork). In addition, it has a wide variety of typical desserts such as ensaïmada, and delicious homemade ice cream.
4. Sa Casa Mallorquina, Algaida.
Also in the municipality of Algaida, Sa Casa Mallorquina is an incredible place to enjoy excellent Italian food made with Majorcan products. As they explain, the spirit of their cuisine is a balance between flavors and colours, a perfect chromatic combination and, indeed, their dishes are worth admiring as well as tasting.
This restaurant has multiple spaces where to enjoy its delicious dishes – two patios, one inside and one outside, a terrace and an interior room in which a beautiful fireplace stands out. But in addition, in its underground cellar delicious wines are discovered, both Majorcan and Italian.
5. Celler Bar Randa.
This winery, well known by the locals, is the perfect place for those who want to try typical Majorcan food at reasonable prices. The Celler Bar Randa is located at the beginning of the road that leads to Santuari de Cura. Its aesthetics as a stone tavern, its many chairs, its multiple tools, pots and ancient utensils, together with its cosy fireplace give this place a rustic touch both inside and on its terrace.
6. Santuari de Cura Restaurant.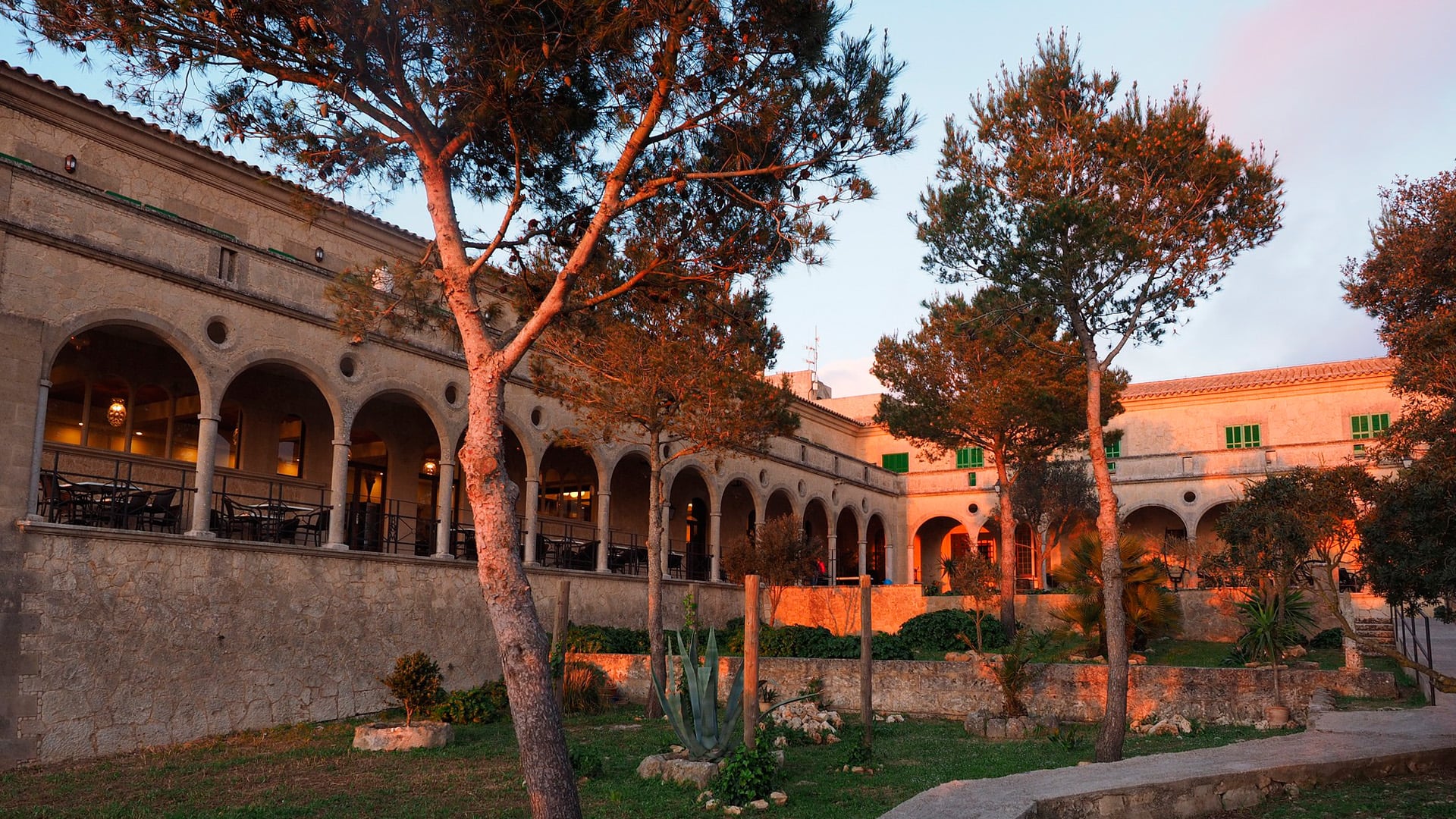 Located on Puig de Randa, the Santuari de Cura restaurant was established in the old library and dining room of the convent. From this place, diners can not only taste a menu based on Majorcan cuisine, with exquisite preparations and local and fresh products, but they can also observe the formidable views of the bay of Palma and the villages of Pla de Mallorca.
Since this restaurant can be visited after a long walk and ascent to Puig de Randa, it also offers a cafeteria service throughout the day that many hikers take advantage of to recover energy while observing the spectacular views, or while resting at the Sanctuary square by the shade of a tree.
7. Sa Cuina De N'Aina, Sencelles.
This family restaurant built in a typical Majorcan house, preserving the traditional rustic appearance of es Pla, offers Mediterranean cuisine with typical dishes from the island, as well as a large selection of national Majorcan wines and delicious homemade desserts and ice creams. Sa Cuina De N'Aina has three lounges and an ideal terrace for the hottest days.
8. Es Celler de Petra.
Es Celler de Petra is characterized by the use of local products and special care and dedication in the preparation of its dishes. Brut rice, soups, aubergines and snails are the gastronomic specialties of this traditional Majorcan cuisine restaurant. Their desserts, based on ancient recipes, are also spectacular.
This restaurant, built in the cellars of a Majorcan country house in Petra, stands out for its high ceilings and its traditional and rustic decoration, perfect for enjoying delicious dishes and blending with local diners and their endearing hubbub.
9. Antic Celler Son Toreo, Sineu.
The oldest Majorcan cellar in Sineu, with a construction that dates back to shortly after the first millennium AD. according to archaeologists, it is a spectacular cellar with high vaults and crushed stone walls. Renovated to house a tapas bar, it offers traditional dishes such as pa amb oli with typical Balearic products (Mahon cheese, sobrasada, camaiot, butifarró, bacon…) that, together with quality Majorcan wines and other grilled meats make up a tasty menu that won't leave anyone indifferent.
10. Celler Can Font, Sineu.
In the cellar of a building dating back to the 12th century, a restaurant has been adapted where you can taste typical Majorcan cuisine, surrounded by old winebags and rustic furniture. One of the star dishes of this restaurant is Sineu's frit which, together with tripe or tongue with capers, form a spectacular triad. In the kitchens of Celler Can Font you can only see fresh local products that give rise to traditional and rustic dishes, but equally delicious.
Susbcribe to our newsletter