Hello everyone! This time, we bring you a special and summery recipe straight from Treurer's kitchen. It is an orange salad, with spices and a delicious olive nectar. We will make use of local products, especially oranges from Sóller and olives from our farm, so let's get to work!
Ingredients
For this refreshing salad you will need:
Sóller Oranges (the quantity depends on the size of your salad)
1Kg 200g of pitted olives
Spices: cumin, ras el hanut (Moroccan version of curry)
Cayenne in stick
Extra virgin olive oil Treurer, 100% arbequina olive oil
Sri Lankan salt
Lemon peel
Peppermint
Plain white sugar and water for the syrup
Elaboration
First we are going to prepare the olive nectar. To do this, we have removed the stone from the olives in our thermomix and we have worked them for 50 minutes at medium speed. Then we strained it through a strainer to obtain pure olive nectar. This will be the base of our salad.
While the olive nectar is being prepared, we cut the oranges and remove the segments. To make them cleaner, we make two cuts and then proceed to remove the skin. Once ready, the segments are put aside in the refrigerator.
Next, we prepare a slightly spicy oil. To do this, we infuse the cayenne in branch with the arbequina olive oil at low temperature. Let it infuse for about five minutes. Then, we prepare a simple syrup with the same amount of sugar as water. Heat over low heat and let it boil until the sugar is completely dissolved. To add a citric touch, infuse lemon peel in the syrup and let it gradually melt.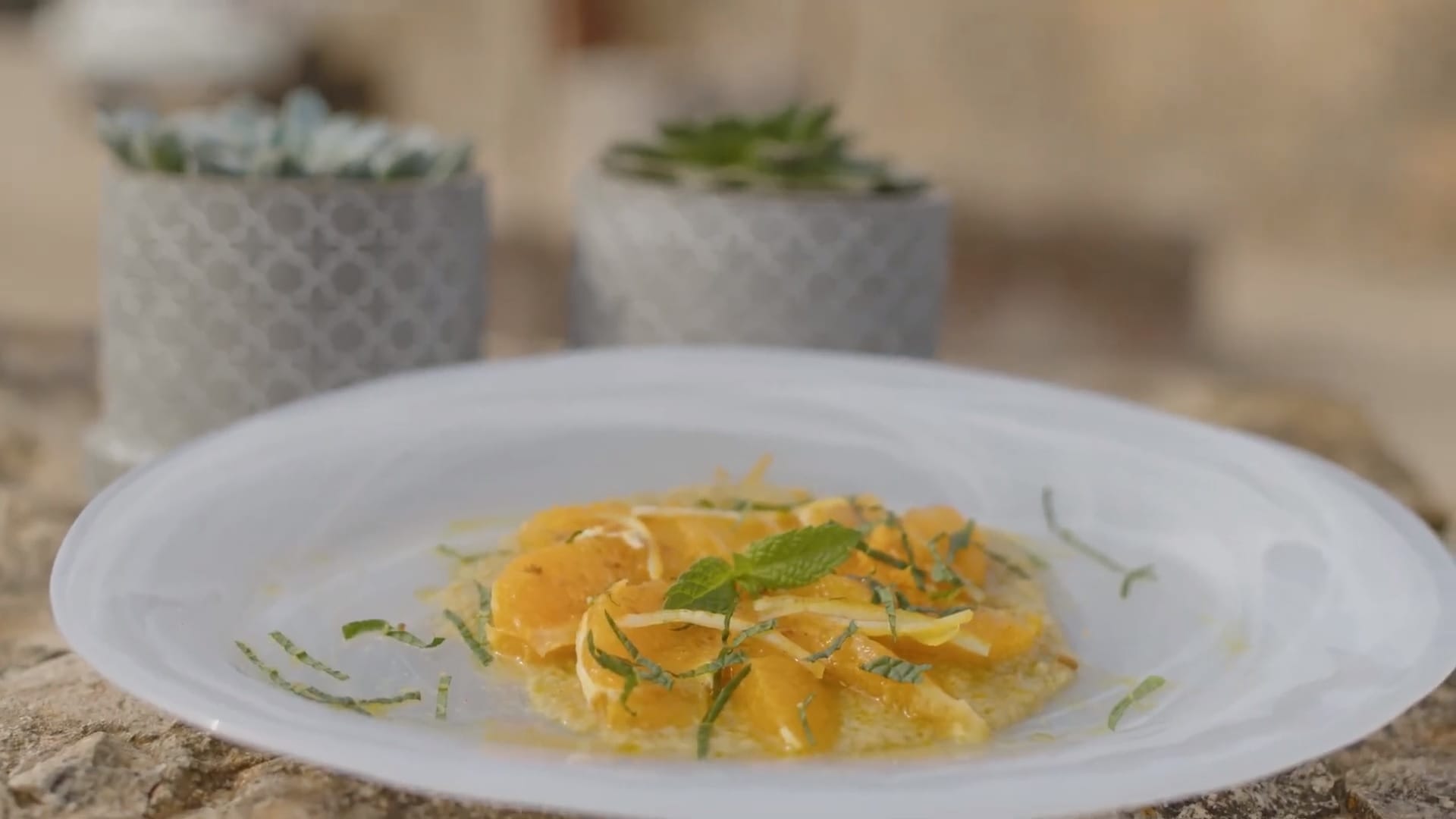 Plating
Once all the steps have been completed, we begin to plate our orange salad. Place the nectar or olive juice at the base of the plate. Then, we place the orange segments in a fan shape on top of the nectar.
We add the spicy oil we have prepared, and then add a touch of Sri Lankan salt. This salt has a citrus and spicy flavor that enhances the flavor of our salad.
We continue with the spices. We sprinkle a little cumin and ras el hanut over the orange. Then, we grate some fresh orange peel to add an extra citrusy touch.
Next, we place the lemon peels that we have candied in the syrup. These will add a citric touch and a sweet point to our salad.
Finally, we finish with some fresh mint leaves, and that's it! We have our orange salad with an olive juice ready to enjoy. This dish is perfect for hot days, providing a refreshing and flavorful combination with every bite.