If you have ever wished to spend the Christmas holidays in a unique environment, December in Mallorca is your answer.
In December, the island is transformed into a scene of contrasts that captures the dual essence of its identity. On the one hand, traditional villages immerse you in a Mallorcan-style Christmas, with local markets, centuries-old customs and a community atmosphere that will make you feel at home.
On the other hand, in the capital, Palma, things take a more cosmopolitan and international turn. Here you will find a mixture of traditions and festivities from all corners of the world and, with much emphasis, from Europe, bringing a global touch to the local atmosphere.
Between the traditional and the more international, December in Mallorca is a season where both worlds converge to offer you a truly enriching and diverse vacation experience. Get ready to experience Christmas like never before, in a place that masterfully balances the local and the global, the ancient and the modern.
Mallorca's weather in December
Mallorca's weather in December is a mix of winter coolness and mild days, making it an excellent time to explore the island away from the overwhelming summer heat and tourist crowds. Temperatures range from 8°C at night to 16°C during the day, allowing you to enjoy outdoor activities without feeling the summer swelter.
Clear skies with a chance of rain.
December can surprise with clear skies and bright sunshine, especially during the first half of the month. However, it is a time when rainfall is more frequent compared to the summer months. A good raincoat or umbrella is essential if you plan to do some sightseeing on the island.
Wind and Sea
While the sea can be a bit chilly for swimming, the coast is still an incredible place to walk. The sea breezes are cooler this time of year, and the wind can be stronger in certain areas, especially in the northern part of the island.
Snow in the Tramuntana Mountains
For those interested in more wintry landscapes, the Serra de Tramuntana can offer a unique experience, as the mountain tops are sometimes covered with snow. This provides opportunities for winter hiking and landscape photography.
In short, Mallorca's December weather is versatile and offers something for everyone. From clear skies to the possibility of rain and snowy landscapes in the mountains, the island presents a wide range of weather experiences that complement the rich cultural diversity experienced during the Christmas festivities.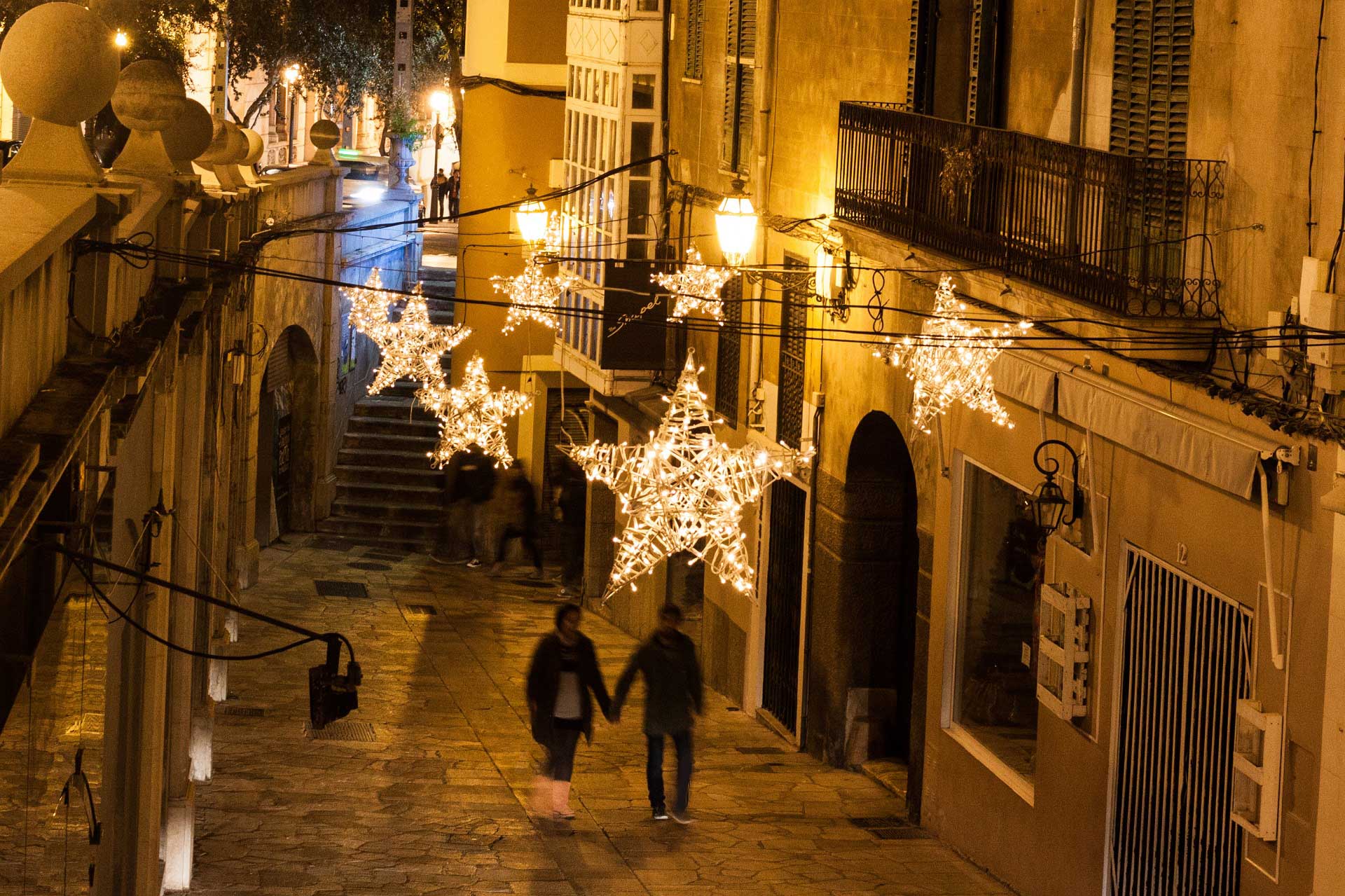 Major weather parameters in Majorca during December
Here are the main weather parameters that you could expect in Majorca during December:
Temperatures
Average maximum temperature: Approximately 16°C
Average minimum temperature: Approximately 8°C
Precipitation
Days with precipitation:About 9-11 days in the month
Total precipitation: Approximately 40-50 mm
Sunshine hours
Daylight hours: About 10 hours
Effective sunshine hours: Approximately 5 hours per day
Humidity
Average relative humidity:About 70-75%
Wind
Average wind speed: 10-15 km/h
Predominant wind direction:From the northwest
Sea
Water temperature: Approximately between 14-16°C
These are averages and may vary from year to year due to specific conditions such as weather cycles, weather phenomena and other factors. It is always a good idea to check weather forecasts before your trip to make more accurate plans.
Festivals and events
December in Mallorca is a month full of festivities and celebrations. From Christmas markets to festivals of lights, there is something for everyone.
Here are some of the highlights, you can also explore Christmas-specific options in our article Top 10 things to do in Mallorca during Christmas.
Svenska Kyrkan (Swedish Church) Christmas market in Mallorca
Every year, the Svenska Kyrkan (Swedish Church) organizes a Christmas market in Mallorca that has become a much-anticipated tradition for both the Swedish community residing on the island and visitors.
The event offers a unique sample of Swedish culture, and is a perfect place to find unique Christmas gifts and typical Swedish products. In this article we explain at greater length everything that makes reference to the Swedish Christmas market.
What you can find
Swedish handicrafts: From Nordic-style Christmas decorations to textiles and jewelry, the market offers a wide range of Swedish handicrafts.
Gastronomy: You can't miss the opportunity to try the delicious Swedish cakes and cookies, as well as the traditional "pepparkakor" (gingerbread cookies) and the glögg, the hot and spicy Swedish wine.
Children's activities: This is a family event, so it is not uncommon to find activities and games for the little ones.
Where and when.
Normally, the flea market is organized at the Svenska Kyrkan facilities in Palma. The date is usually at the end of November or in the first days of December, but it is advisable to check their website or social networks to confirm the exact details each year.
How to participate
Location: The flea market is located in an accessible location, making it easily accessible by both car and public transport.
Admission: Admission is generally free, although sometimes a small donation for a charitable cause is requested.
This flea market is not only an opportunity to do some Christmas shopping, but also a great way to experience a mix of cultures and traditions in a festive atmosphere. Don't miss it if you find yourself in Mallorca in December.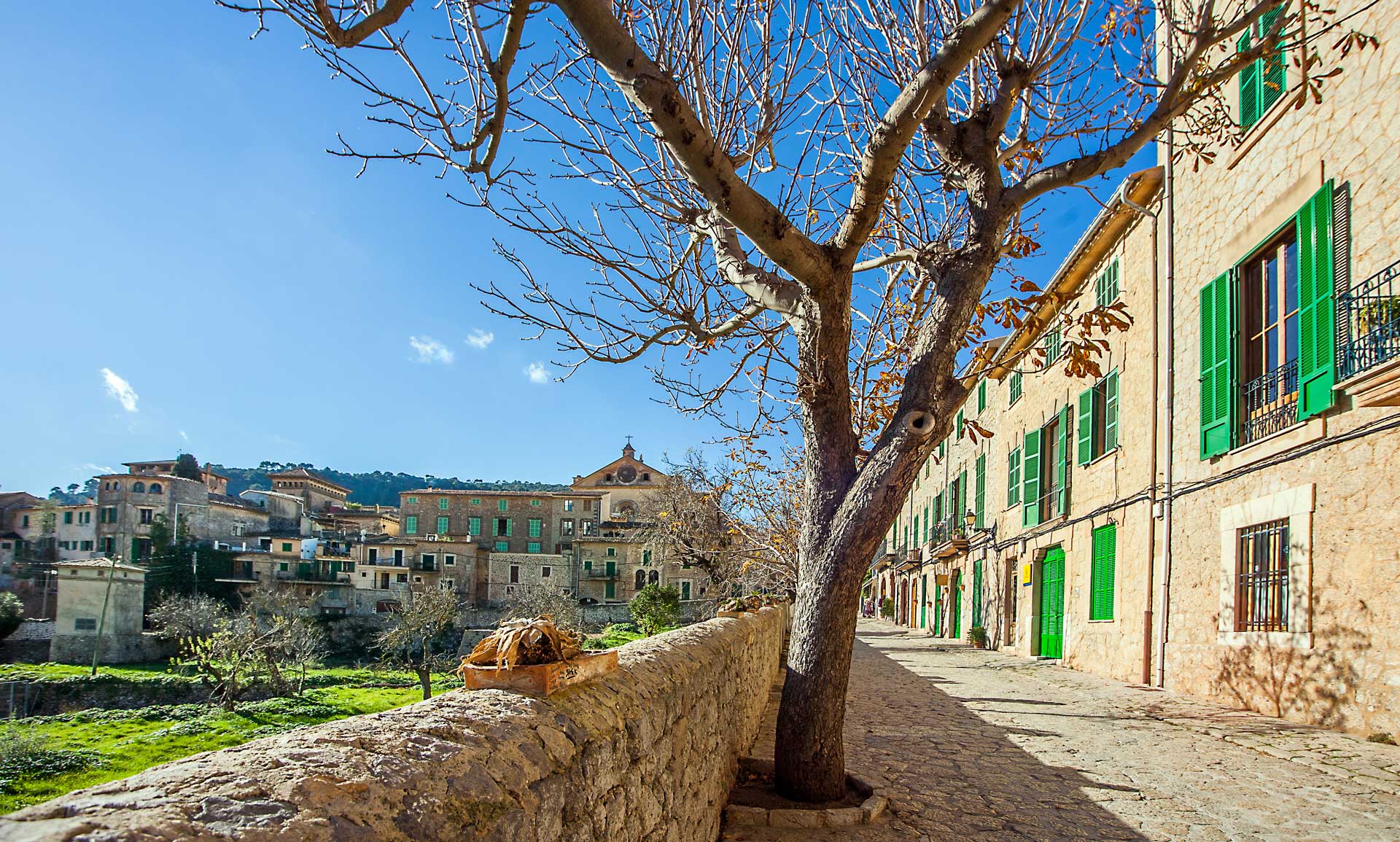 Moorish influence
One of the most interesting and least known stages in the history of Deià is the Moorish influence on its culture and architecture. After the Muslim conquest of the island in the 10th century, the area of Deià became an important agricultural center under Islamic rule.
Advanced irrigation techniques were introduced, and the architecture of the town reflects the influences of this period to this day, as can be seen in the ancient stone buildings and the design of its narrow streets. Although the Muslim presence on the island ended in the 13th century with the Aragonese conquest, their legacy remains a fascinating part of Deià's cultural heritage.
Development over the years
The development of Deià experienced a remarkable growth during the Middle Ages, especially with the conquest of Mallorca by the Kingdom of Aragon in 1229. Over the centuries, the town went through different stages of agricultural and fishing development, becoming a modest but prosperous commercial and fishing center.
During the 18th and 19th centuries, Deià began to receive its first illustrious visitors, such as artists and writers who were captivated by its beauty and tranquility. This was the beginning of the town's relationship with the artistic and cultural community, which would be strengthened in later years.
Mallorca Christmas markets: festive spirit and unique shopping
This is an event not to be missed if you are in the capital. The squares and streets are filled with stalls offering all kinds of Christmas products, from decorations to typical food.
Plaza Mayor and Ramblas in Palma.
In Palma's Plaza Mayor you will find a variety of decorative objects and gifts for Christmas. The markets continue on La Rambla and around Plaza España, where churro stalls and artisan products await you.
Pueblo español in Palma.
This setting located in the Son Español area of Palma becomes a winter wonderland during Christmas. Pueblo Español offers a wide range of gift, food and drink stalls, plus special appearances by Santa Claus. And best of all, the venue has free parking.
Puerto Portals, in Calvià.
The Christmas Market in Puerto Portals is a melting pot of traditions and flavors. This market, now in its eighth edition, offers everything from gift ideas to a diversity of culinary proposals that include traditional Christmas specialties and international dishes such as "Kartoffelsalat" or "Lebkuchen". The cozy atmosphere is accentuated by lights, Christmas music and children's activities ranging from workshops to facepainting. Also, don't miss the famous skating rink!
Christmas lights switch-on
This event turns the city into a real spectacle of lights and colors.
The Christmas lights switch-on is one of the most anticipated events of the year and officially marks the beginning of the Christmas season in many cities and towns.
Typically, the lighting of the lights takes place during a special event that may include live performances, music, and often some kind of show or presentation. The streets are filled with color and Christmas decorations light up the island, giving a very festive atmosphere that lasts until the New Year.
In Palma, the capital of Mallorca, the lights are usually switched on at the end of November (although, exceptionally, in 2022 it was brought forward by a week having suffered two years of pandemic restrictions), during an event that attracts thousands of people to the city center.
Some of the most popular areas that are usually decorated with Christmas lights:
Paseo del Borne: This is one of the most important avenues in Palma and usually features one of the most impressive decorations.
La Rambla: Another of the city's best-known promenades, it is filled with lights and often hosts Christmas markets.
Plaza Mayor: This is the heart of the city and becomes a hub for Christmas activities, including a large illuminated Christmas tree.
Calle San Miguel and Calle Colón: These are popular shopping streets that are also often decorated in a festive manner.
Avenida Jaume III: One of the main commercial arteries of the city, it is decorated with Christmas lights and often has activities for children.
Plaza de Cort: Known for its centuries-old olive tree, this square is also decked out with Christmas lights and decorations.
Puerto de Palma: The port area is also decorated, and the lights reflected in the water create a spectacular effect.
Puerto Portals: This luxurious marina often has its own "Christmas Market" and is decorated impressively.
In other towns on the island, such as Alcúdia, Pollença, or Sóller, the main squares and streets are also often decorated, although on a smaller scale compared to Palma.
Saint Stephen's Day (December 26): This is a public holiday in all Catalan-speaking areas and some other Spanish communities. In Mallorca, it is a very important day, being celebrated by many families with.
New Year's Eve: As in many other parts of the world, New Year's Eve is celebrated with fireworks, music and dancing in public squares.
With so many options available, the hardest part will be deciding what to do. Regardless of your choices, December in Mallorca will offer you an unforgettable festive experience.
The nativity scene route in Palma
This tradition consists of visiting a series of cribs or nativity scenes that have been elaborated with great detail and affection. Visiting nativity scenes in Palma de Mallorca is one of the most popular activities during the Christmas season on the island and is usually done with the whole family.
What is a Nativity Scene??
For readers not used to this tradition, we will say that a nativity scene is an artistic representation of the scene of the birth of Jesus Christ.
This tradition is especially popular in countries with a Christian tradition and takes place mainly during the Christmas season.
The nativity scene is generally composed of figures representing the Virgin Mary, St. Joseph, Baby Jesus, the Magi, shepherds, angels and various animals, such as sheep and donkeys. These figures are placed in a setting that recreates the nativity scene, which could be a stable or a cave, and often includes elements such as mountains, rivers, trees and buildings.
The purpose of the nativity scene is to recreate the setting and events related to the birth of Jesus as recounted in the Gospels of the Bible, particularly those of Matthew and Luke. Nativity scenes can vary in size and complexity, from small representations in the home to large installations in churches, public squares and other community spaces.
The word "crib" comes from the Hebrew "Bethlehem", which is the city where, according to Christian tradition, Jesus was born. In different countries and cultures, the nativity scene may be called by other names such as "nacimiento", "pesebre" or "crèche".
In Spain, nativity scenes are present in almost every home, especially if there are children. Tradition dictates that figures representing the Magi (kings who worshipped the born Christ) be placed in the crib and moved a little each day, bringing them closer to the nativity scene, until January 6, the day on which children and adults open their gifts.
The tradition of setting up a nativity scene during Christmas is commonly attributed to St. Francis of Assisi, who in 1223 created the first representation of the birth of Jesus with live people and animals in Greccio, Italy. Since then, the custom has spread around the world and has taken on different forms and styles, becoming one of the most beloved artistic and religious expressions of the Christmas season.
The route of nativity scenes in Palma de Mallorca.
The nativity scenes are installed in both public and private places, and the entrance of almost all of them is free. Here we mention you some of the most outstanding places where you can enjoy them:
Cathedral of Palma (La Seu). A traditional nativity scene is set up in the Cathedral, being one of the most visited due to the magnificent setting in which it is located.
Misericordia Cultural Center. Made with figures of the most authentic Mallorcan tradition, it represents, in addition to the birth of the baby Jesus, scenes of the popular life of the Mallorcans, especially in the rural world.
Neapolitan Nativity scene of Sant Antoniet.

Located in the Cloister of BBVA, in Sant Miquel street, the peculiarity of this nativity scene is that it was made following the Neapolitan aesthetic, with large figures and rich in costumes and details.

Belen of the shopping center C&A. Located in the side street to the shopping center, Sant Jaume or San Jaime street, 2.
Belén of the Barceló Foundation. If you visit the previous one, you can see a second one in a few steps. Located at Sant Jaume or San Jaime, 4 is the nativity scene of the Barceló Foundation.
Sa Nostra Nativity Scene. Located at Carrer de la Concepció, 12.
Santa Catalina Market. It is made by the nativity scene makers belonging to the Asociación Belenistas de Mallorca and can be visited between 9:00 a.m. and 9:00 p.m. every Christmas.
Centro comercial el Corte Inglés

. Bethlehem of 60 square meters, located inside the mall, made by the Association of Nativity Scenes of the Balearic Francesc Rosselló.

Palma City Hall:

Located in the Plaza de Cort, the City Hall usually hosts a very large and elaborate nativity scene that attracts locals and tourists alike.

Churches and parishes

: Churches around Palma, such as the Basilica of Sant Francesc or the church of Santa Eulalia, often have their own nativity scenes that are worth a visit.

Christmas markets

: In markets such as Puerto Portals or Pueblo Español, apart from Christmas shopping, there are usually nativity scenes that can be visited.

Private homes

: Some residents also open the doors of their homes to show their nativity scenes, or they are placed near the window to be admired, and sometimes there are nativity scene competitions in different towns.
It is an activity that can be enjoyed by the whole family and offers the opportunity to tour the city at one of the most magical times of the year.
The singing of the Sibil-la on December 24th
The Sibil-la is a much-loved tradition in Mallorca, which has experienced a renaissance in the last three decades.
During Christmas Eve, after a family dinner, families attend the Matins Mass in which the Sibil-la is performed.
The Sibil-la is a performance in which a prophet, originally a male child or a young countertenor, sings about the Last Judgment and other biblical events. The tradition has roots in ancient Greece and Rome and was adapted to Christianity as an announcement of the coming of Jesus Christ.
Although there was a period when the practice was banned, in Mallorca and Alghero, Sardinia, the tradition persisted with the blessing of the local church.
Since the Second Vatican Council in 1965, women have also been able to participate as the Sibil-la. This performance, which includes Gregorian chant in several languages and the symbolic use of a sword, is a highlight of Christmas celebrations on the island.
Learn more about la Sibil-la in our article.
The German community and the Christmas mass in the Cathedral of Palma
One of the hidden gems of the festivities in Mallorca is the Christmas Mass in German at Palma Cathedral, which this year celebrated its 50th anniversary. This ecumenical event, started in 1971, has become a deeply rooted tradition for both German residents and German tourists on the island.
The largest German-speaking event abroad
With two Mass shifts, one at 3:30 p.m. and one at 5:00 p.m., and a capacity of up to 3,000 people in the church, an estimated 5,000 to 6,000 people attend each year. This makes this mass the largest German-speaking service abroad worldwide.
A bond between communities
The mass is organized jointly by the German-speaking Catholic and Protestant communities, demonstrating a wonderful example of unity in diversity that Mallorca offers, especially during the Christmas season.
This event is more than just a mass; it is a testament to the community spirit and rich cultural diversity you can experience in December in Mallorca. It's yet another reason to consider the island as your next Christmas destination.
December gastronomy in Mallorca
The island of Mallorca has a rich gastronomic tradition that shines especially bright during the Christmas festivities.
Here is a more detailed selection of typical dishes that you can find on the island during this season.
Typical dishes of the season
Sopa de Nadal: This is a Christmas soup with a base of broth and a special paste called "galets", in the shape of a snail, which is filled with minced meat.
Porcella: This is a suckling pig marinated in lemon juice, olive oil, salt, pepper, bay leaf and garlic. This dish is especially popular to be cooked on December 25.
Sopa d'ametlla: This almond soup has a very unique flavor. It can be made with fresh or roasted almonds, and is a very popular choice during the holidays.
Coca de torrò

: This is a sweet that uses nougat, an almond-based ingredient, to create a delicious coca that has been prepared for generations.

Other dishes: In addition to those already mentioned, the island offers several other delicious dishes during Christmas, such as 'coques bambes', 'escaldums d'endiot', 'coques de neula', 'coques de patata', 'Tambó d'ametlla', and 'mantecado de ametlla torrada'
Recommended restaurants
To enjoy the most of the Christmas gastronomy in Mallorca, I would recommend the following places. In almost all of them it is necessary to book, due to the special and crowded dates.
Finca Treurer. Located in an idyllic setting, the Finca de Treurer Restaurant is the perfect place to experience authentic Mallorcan cuisine in all its splendor, especially during the Christmas festivities. The establishment, surrounded by olive groves and with panoramic views of the island, is the epitome of Mediterranean hospitality. Advance reservations are required
Can Bonico: This hotel has an excellent restaurant where you can enjoy typical Mallorcan food during Christmas. It is necessary to book in advance.
Es Guix (Escorca, Mallorca): If you like natural surroundings and traditional food, this restaurant is perfect for you. Advance reservations are required.
Ca'n Joan de S'Aigo (Palma, Mallorca): Here you can enjoy typical sweets such as ensaimadas and cocas de turrón. It is not necessary to book in advance, but you can find a queue to get a turn on designated days.
Restaurant Marc Fosh (Palma, Mallorca): If you're looking for something more sophisticated, this Michelin-starred restaurant is ideal. Advance reservations are required.
Celler Sa Premsa (Palma, Mallorca)

: A historic restaurant where you can enjoy authentic Mallorcan dishes in a traditional setting. Advance reservations are required.
So, if you find yourself in Mallorca during December, don't hesitate to try these tasty dishes that reflect the island's rich gastronomic tradition.
Why visiting Mallorca in December is an excellent idea?
Visiting Mallorca in December is an exceptional opportunity to experience the island from a unique perspective, away from the tourist hustle and bustle of the summer.
Christmas in Mallorca is a celebration deeply rooted in local tradition and culture, offering visitors an intimate insight into the island's customs and festivities. From the festive lighting that adorns the streets and squares, to the route of nativity scenes and the emblematic Cant de la Sibil-la at Midnight Mass, the island is filled with a special charm.
In the gastronomic field, December is the month to savor authentic Mallorcan cuisine in its festive splendor. Dishes such as "sopa rellena de Nadal," suckling pig ("porcella") and traditional sweets such as "coca de torró" feature prominently on the tables of Mallorcan families, as well as on the menus of local restaurants. Some restaurants, such as the one at the Treurer estate, may offer special menus that highlight the flavors of the season.
Nature also offers its own kind of magic during the winter. The milder temperatures are ideal for exploring the Serra de Tramuntana, and the landscape, although more austere than in other seasons, has its own serene beauty.
Mallorca in December is an enchanting fusion of tradition, gastronomy and natural beauty, offering a rich and meaningful holiday experience. It is an excellent idea for those who are looking for more than just sun and beach, and want to immerse themselves in the local culture.