The image of Mallorca is associated with the blazing summer sun, the crowded beaches and the lively nightlife. But there is a facet of this beautiful island that often goes unnoticed: the captivating autumn.
With the arrival of October, the island transforms into a calm and serene paradise, in pleasant contrast to the hustle and bustle of summer. The weather still retains the summer heat but with a gentle breeze that invites you to explore every corner without suffering high temperatures. The crowds dissipate, leaving the beaches and emblematic places of Mallorca more accessible and enjoyable.
In this article, we invite you to discover the hidden charm of Mallorca in October, where the colors of autumn blend with the soft light of the Mediterranean, creating an unforgettable atmosphere. You will discover how the weather, the activities, the seasonal gastronomy and some practical tips can make your trip to Mallorca in October a unique experience.
Is it cold in October in Mallorca?
Mallorca's weather in October is simply delightful. Although summer has officially said goodbye, the island still enjoys mild and pleasant temperatures, ranging between 18 and 24 degrees Celsius on average. The humidity of the air decreases compared to the summer months, bringing a sense of comfort to the mild temperatures.
Sunny days are still the norm in October, although the first signs of autumn are already apparent. The light becomes softer, the skies more dramatic and sunsets over the Mediterranean take on a palette of vibrant colors that look like they were painted by an artist.
Rainfall is sporadic, but, when it does occur, it is often brief and intense, leaving behind fresh air and an even more lively nature. Mornings can be cool, so it is advisable to bring a light jacket or sweater for the first walks of the day.
In short, October in Mallorca provides ideal weather for those looking to enjoy the island's natural beauty in a calm and relaxed environment, away from the oppressive heat and crowds of summer. It is a time of calm and serenity, ideal for exploring the island in comfort and at your own pace.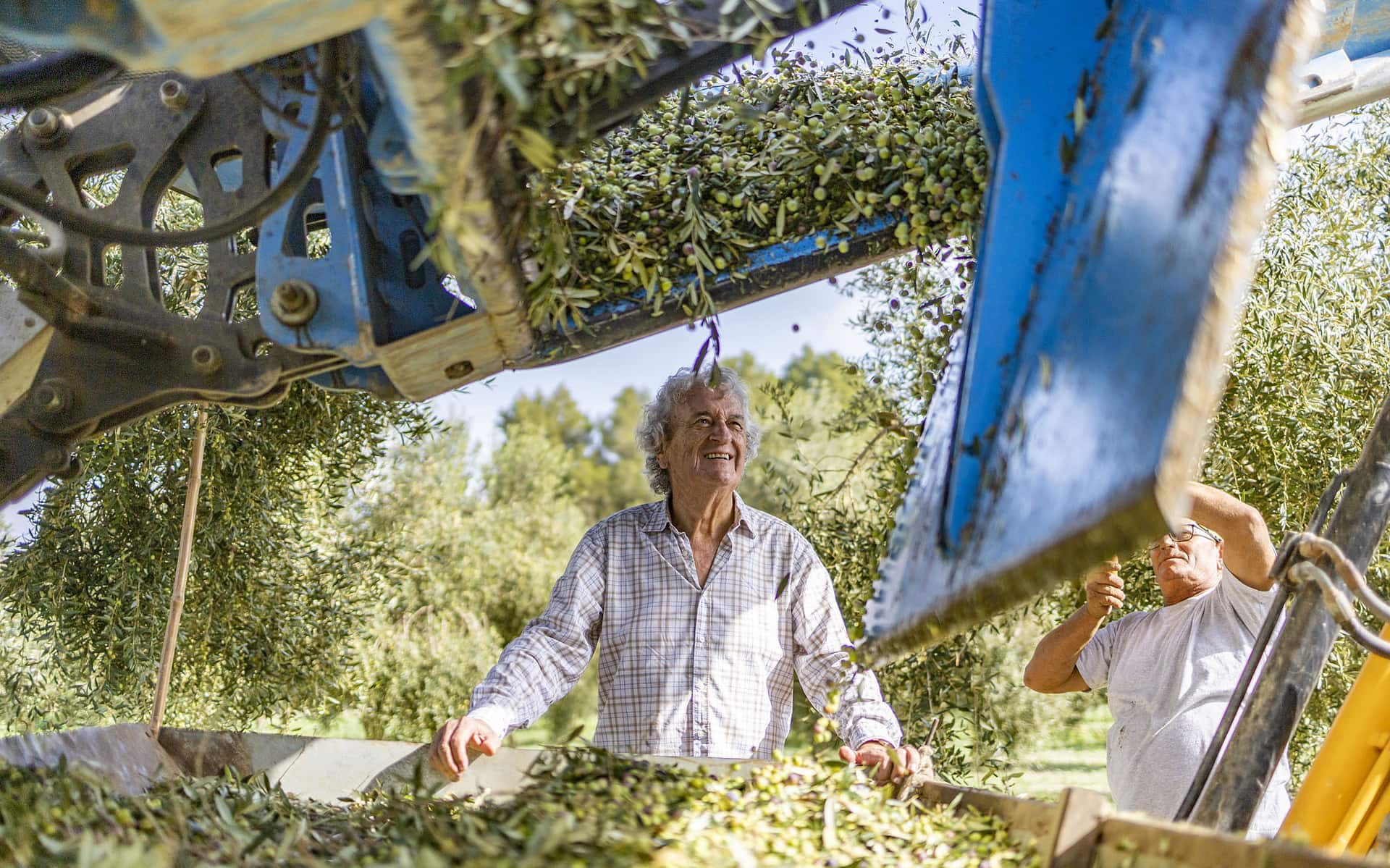 What to do in Mallorca in October?
.
October in Mallorca becomes an ideal scenario to explore the island in a quieter and more authentic way, away from the tourist hustle and bustle of the summer months. Here are some activities and places you can enjoy during this beautiful month:
Hiking and cycling excursions: With the cooler weather and fewer tourists on the roads, October is the perfect month for hiking and cycling lovers. You can explore the Sierra de Tramuntana mountain range, a UNESCO World Heritage Site, which offers incredible hiking routes with spectacular views of the sea and mountain scenery.
Tasting the local gastronomy: In October, Mallorca celebrates several gastronomic fairs and festivals where you can enjoy local seasonal products. Don't miss the opportunity to try the local sobrasada, figs and almonds, as well as wines from the island's wineries.
Cultural visits: October is a good time to visit Mallorca's monuments and museums without the summer crowds. You can't miss Palma Cathedral, Bellver Castle or the beautiful village of Valldemossa.
Cultural visits: October is a good time to visit the monuments and museums of Mallorca without the summer crowds.
Beach activities: Although the weather may be cooler, you can still enjoy beach days in Mallorca during October. You may fancy a last dip in the sea, or simply enjoy a leisurely stroll along the coast.
Visiting vineyards and wineries: The grape harvest season usually ends in October, so it's a good opportunity to visit some of the island's wineries, learn about the wine production process and, of course, taste some of the excellent local wines.
Finally, don't forget that October is the ideal month to discover the most authentic and peaceful Mallorca, enjoying its nature, culture and gastronomy without rushing, in a relaxed and serene environment.
October, time to produce new extra virgin olive oil
.
One of the most special and exciting moments in our lives is, without a doubt, the olive harvesting season, a task full of tradition, effort and satisfaction.
At the end of October, we prepare for the olive harvest. The exact time may vary depending on factors such as the variety of olive and the specific climatic conditions of each year. Our main objective is to harvest the olives at their optimum ripening point, when the quantity and quality of the oil, as well as its flavor and aroma profile, reach perfection.
Once harvested, the olives are quickly transported to our own mill for processing. It is vital to minimize the time between harvesting and milling to avoid oxidation and ensure the preservation of all the healthy and organoleptic properties of the olive oil.
The olive harvest at Treurer is more than an agricultural process; it is a true celebration. Every year, with the beginning of the harvest, we share our passion and dedication for the art of olive oil making with our visitors and friends.
In short, at Treurer, the olive harvest is an exciting and fascinating ritual that becomes one of the most exciting moments of the year, resulting in our precious treasure: the extraordinary Treurer extra virgin olive oil. A gift of nature, cultivated in our land and elaborated with our passion and dedication.
Where to stay in Mallorca in October
When it comes to deciding where to stay in Mallorca in October, there are many options available that will allow you to make the most of everything the island has to offer during this wonderful month. Here are some recommendations:
Palma de Mallorca: The island's capital is a vibrant and exciting place to stay at any time of year. In October, with fewer tourists, you can enjoy its charming cobbled streets, historic cathedral and lively food scene at your leisure. There is a wide variety of accommodations available, from luxurious boutique hotels to comfortable rental apartments.
Sierra de Tramuntana: If you love nature and plan to go hiking or cycling, staying somewhere in the Sierra de Tramuntana can be an ideal option. There are charming cottages and boutique hotels tucked away in the mountains that offer an authentic Mallorcan experience.
Small towns and villages in the Tramuntana Mountains are also a great place to stay.
Coastal villages: Coastal villages such as Port de Sóller or Port de Pollença are ideal if you are looking for a quiet atmosphere with beautiful sea views. Many of them have charming hotels and apartments just a short walk from the beach.
Finca Treurer
But, if you want to live in first person the moment of the olive harvest, staying in our own farm is the best option. Located in an olive farm, our hotel will allow you to experience Mallorcan culture and gastronomy up close, and discover the art of olive oil production. In addition, its location in the center of the island makes it perfect as a starting point to explore every corner of Mallorca.
Finca Treurer is a hidden gem in the heart of Mallorca, a region known for its rich agricultural traditions and stunning natural beauty. Our estate, which covers some 33 cuarteradas (about 234,399 m2), is located on the island's plain, a location that provides us with a more pronounced climate than on the coast, favoring the health and yield of our olive trees.
We are proud to be one of the few producers on the island that carries out all the processes linked to the production of oil on its own farm: we cultivate our own olive trees, we produce our extra virgin olive oil in our own mill located on the farm, and finally, we bottle the final product in our own facilities.
At Treurer, we keep alive the tradition of Mallorcan olive growing, preserving our ancient varieties of olive trees and applying sustainable cultivation techniques. About half of our estate is dedicated to olive groves, while the rest is maintained as pine forest or garrigue (scrubland). This balance between the olive trees and the natural environment allows us to maintain biodiversity, respect the ecosystem of the area and, at the same time, produce an extra virgin olive oil with a unique identity.
In addition to our agricultural activity, we are also pleased to offer unique tourist and gastronomic experiences to our visitors. From guided tours of the farm and oil mill, to gastronomic experiences prepared by our private chef, José Cortes. Our goal is to share not only our product, but also our passion for the land and culture of Mallorca.
If you decide to visit us in October, you will have the opportunity to witness this important moment, learn about the harvesting process and see how our precious extra virgin olive oil is made. This is a unique and fascinating event that sets us apart and allows our guests to experience authentic Mallorcan culture and tradition up close.
Majorcan autumn gastronomy
Mallorcan gastronomy is rich and varied, and in October, seasonal culinary delights become even more prominent. The arrival of autumn offers us an abundance of fresh and tasty ingredients, which are skillfully used by our chefs to create exquisite dishes.
One of the star ingredients of autumn are mushrooms, of which a great variety can be found in the island's forests. Mushroom dishes are very popular and appreciated for their earthy flavor and smooth texture. Mushroom stews and soups are particularly comforting during the cooler autumn days.
Another seasonal product is almonds, which are harvested in September and October. Almonds are a fundamental ingredient in many Mallorcan dishes and desserts, providing a crunchy touch and a delicately sweet flavor.
Last but not least is our extra virgin olive oil. Produced on the estate during the months of October and November, it is the protagonist of many dishes. The freshly pressed oil has a fresh and vibrant flavor, which enhances any dish to which it is added.
Some recommendations if you travel to Mallorca in October
.
Mallorca is a sizable island with many beautiful areas to explore, from hidden beaches to picturesque mountain villages. Hiring a car may be the most efficient and flexible way to make the most of your stay.
Although temperatures are mild in October, nights can be a bit chilly. Be sure to bring warm clothing and don't forget a raincoat or umbrella, as there may be occasional showers.
October can be a popular month for visitors, so it is recommendable to make early reservations for hotels, restaurants and popular activities.
Take advantage of the cooler weather to go on outdoor excursions. The island has a wealth of hiking trails and biking routes to explore. Don't forget to visit the Serra de Tramuntana National Park, a UNESCO World Heritage Site.
Suscríbete a nuestra newsletter