Some of the star products of Mediterranean cuisine – pasta, cucumber, tomato, feta cheese, yoghurt, olives and extra virgin olive oil – are combined in an extraordinary recipe: our pasta salad with tzatziki sauce. Aromatic, refreshing, healthy and full of those macronutrients you need to continue with your daily activities. This salad is an explosion of flavours from different Mediterranean countries such as Italy and Greece. You will feel transported to these places but without leaving your kitchen. Easy to make and completely delicious.
Ingredients for making pasta salad
For the tzatziki sauce:
1 medium cucumber
1 Greek yoghurt (125 ml)
1 clove garlic
Fresh dill
1 teaspoon of extra virgin olive oil (preferably of the Arbequina variety)
For the salad:
180 g wholemeal pasta
60 g roasted peppers
1 handful of spinach
80 g feta cheese
50 g of black olives
Pasta salad making process:
For the tzatziki sauce:
Wash and grate one cucumber. Transfer it to a
dry kitchen cloth and squeeze to remove excess
water.
Add the result to a bowl with the Greek yoghurt along with a grated garlic clove and mix it well.
To finish the sauce, add the juice of half a lemon, fresh dill, salt and pepper to taste.
Add also the extra virgin olive oil and incorporate all the ingredients well.
Keep this sauce in the refrigerator to add more freshness to the salad.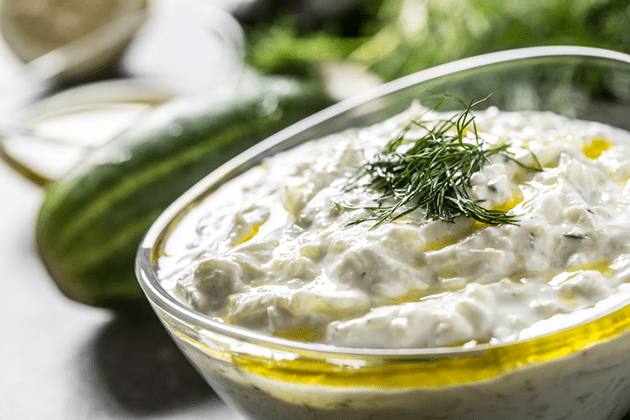 For the pasta salad:
Boil your pasta of choice according to the instructions you will see on the package.
While the pasta is boiling, you can chop the rest of the ingredients. Add the roasted peppers, spinach and the chopped olives to a salad bowl.
Once the pasta is boiled, be sure to break the cooking with cold water. Add it to the bowl along with a tablespoon of virgin olive oil and the tzatziki sauce.
Incorporate all the ingredients well and, finally, crumble the feta cheese on top to serve.