We already knew that extra virgin olive oil is one of the healthiest fat sources. Its antioxidant and anti-inflammatory qualities are extremely beneficial to prevent certain diseases. And even if it is practically the best oil you can cook with, its cold consumption is even better, since it preserves all those organoleptic properties that we are interested in.
But this cold consumption is not limited only to the vinaigrettes that we can use in the wide variety of salads typical of Mediterranean gastronomy. It can also be your base to prepare some appetizers that will help you stay satiated between hours without feeling guilty. And for this reason, here we list 7 healthy snack ideas for each day of the week, that you can quickly prepare:
The 7 healthy snacks, perfect to eat between meals:
Pa amb oli.
Guacamole with crudités.
Hummus with whole crackers.
Refreshing gazpacho.
Cheese sauce on toast.
Spinach and roasted peppers omelette.
Carrot mugcake.
1. Pa amb oli.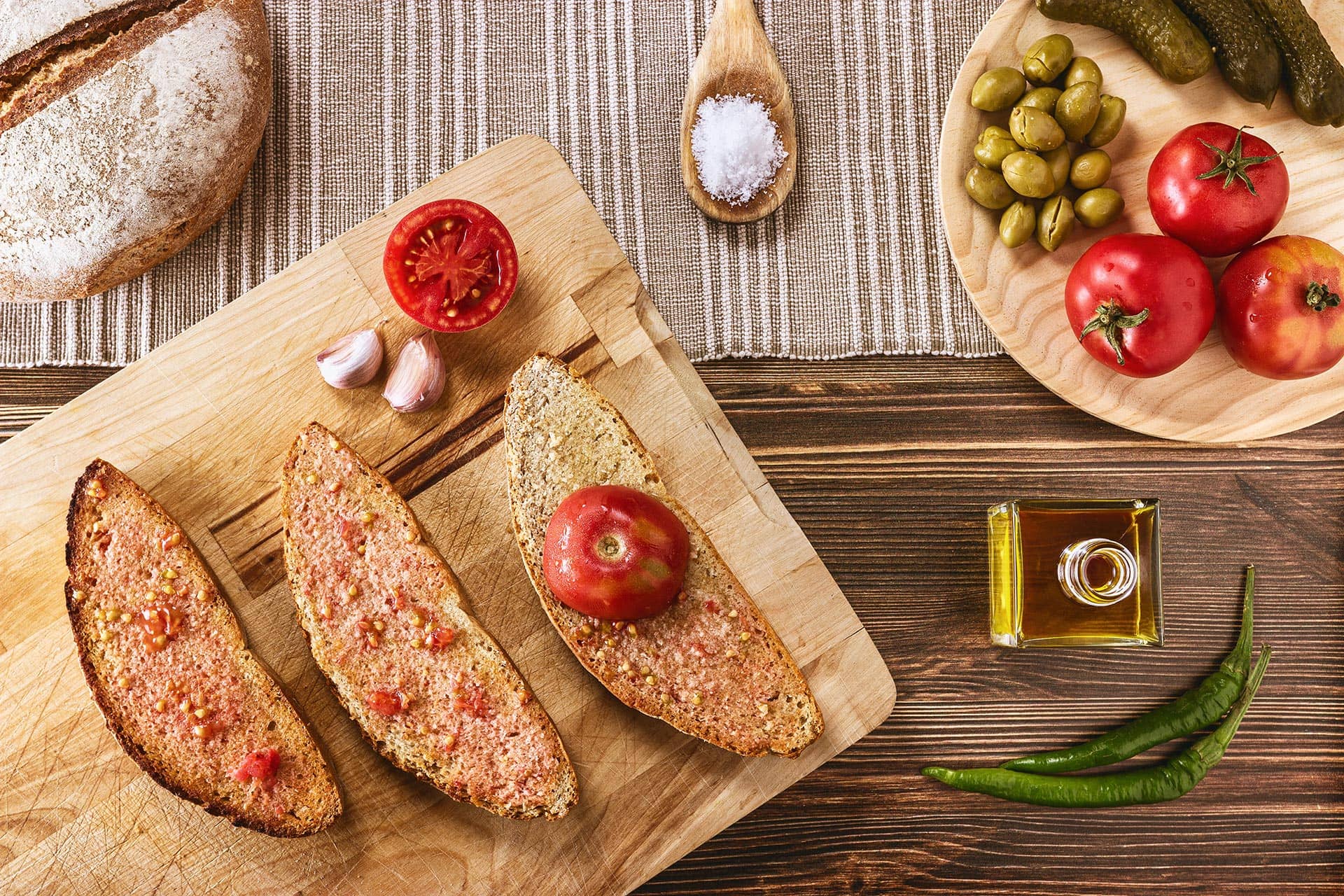 In Mallorca, pa amb oli is the recipe par excellence. Traditional, simple as well as appetising and easy to prepare, it can satisfy the appetite at any time of the day. Perfect for breakfast, lunch or dinner, as well as for snacking between meals. The only difference will obviously be the quantity and what you pair it with.
Since the base of pa amb oli is a homemade rustic bread, we already have a great contribution of carbohydrates and fibre, but also rubbing a ramellet tomato and adding extra virgin olive oil will make this base delicious and even healthier and nutritious. Protein sources can come from wide variety of cold meats, but to keep it healthier we can always opt for the classic slice of smoked salmon with or avocado, which leads us to our following recipe:
2. Guacamole with crudités.
Guacamole, one of the star recipes of Mexican cuisine, is also one of the healthiest dips you can prepare to eat between meals, especially if you use extra virgin olive oil to achieve that delicious texture. The red onion, garlic, coriander and lime give this recipe an exotic touch. But obviously avocado is the main ingredient.
Besides the healthy fatty acids of the extra virgin olive oil, the whole avocado fruit is another excellent source of fats necessary for our health. It provides energy and it's also rich in vitamins, minerals and fibre. And if you use to raw vegetables (carrot, pepper, celery and cucumber) to dip in it you will have a great variety of nutrients in this appetizer.
3. Hummus with whole wheat crackers.
Hummus is another great dip option if you pair it with vegetables, or use it on a whole grain crackers. This recipe made out of cooked chickpeas and extra virgin olive oil for creaminess, as well as garlic, tahini and spices such as cumin for taste, is delicious when you pair it with any crunchy food such as the toasts we are talking about and, why not, some olives on a side.
This Mediterranean recipe is excellent as a healthy snack, but it can be part of any lunch and evening menu as it is a great source of protein, fibre and calcium. Besides it's low in fat, although those it includes are healthy sources of energy and antioxidants .
4. Refreshing gazpacho.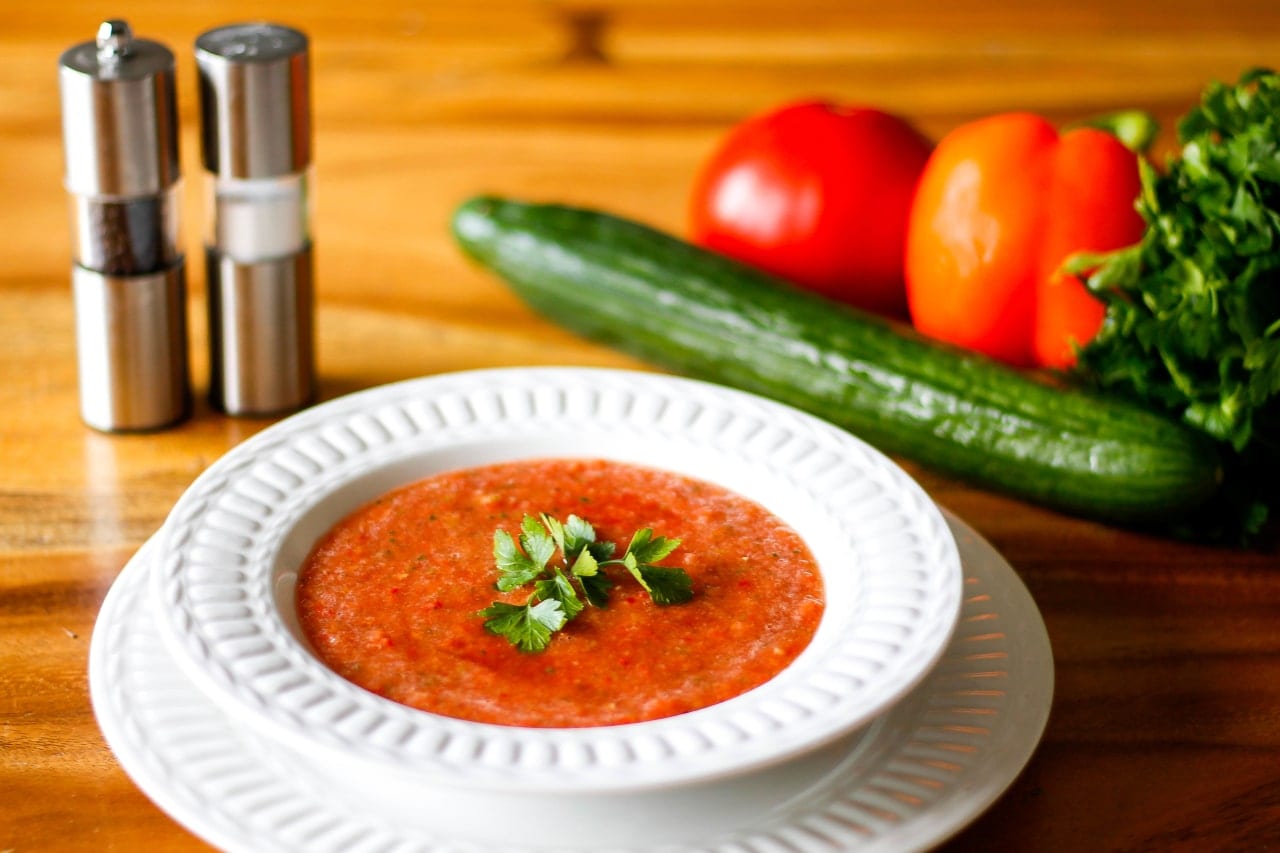 Especially in summer, there is nothing more refreshing as well as nutritious than a gazpacho. This Andalusian cold soup is made with some of the healthiest products from the garden (tomatoes, cucumber, green pepper, onion, garlic) as well as extra virgin olive oil that provide this recipe with a spectacular mix of vitamins and minerals.
You can always accompany your gazpacho with some protein food. For example, this recipe pairs especially well with cheeses and Serrano ham. This combination is a classic of Spanish gastronomy. Overall, it's a great option for snacking between meals or having a light and healthy meal.
5. Cheese sauce on toast.
Cheese sauces are also great for 'dipping' as well as spreading on whole grain toast or crackers. And why not, since you invest time in its preparation (not much, you will see that it is fast), you can make more quantity and take advantage of it in your salads, pasta, or even with fruits such as apple, melon or grapes, depending on the season.
For its preparation you can use the same amount of milk (whole or vegetable, any option is valid), grated cured cheese and spread cheese or cottage cheese (freshness). This salsa is as easy to prepare as putting all the ingredients in a microwave-safe container and giving it a few heat strokes at 30-second intervals until the cheese is integrated. Then you can add a teaspoon of extra virgin olive oil (Arbequina variety especially) to give it a unique texture and nuance. Then, you will only have to enjoy it.
6. Spinach and roasted peppers omelette.
Although it may seem unusual, the spinach and roasted pepper omelette has everything you could want in a healthy and nutritious snack. As you may have already observed, spinach is considerably reduced and for this recipe you only need a handful that you will have to fry in a pan with extra virgin olive oil. Here you can season to taste and add other spices of your choice.
In a couple of minutes your spinach will have been reduced and you can add the roasted peppers (those previously canned avoid you having to cook and they also have a delicious smoked flavour) and 1 beaten egg. In 5 minutes you will have an omelette made with 3 healthy ingredients and with a delicious and convenient flavour when you do not feel like a cold snack and you are hungry.
7. Carrot mugcake.
For those who prefer a sweet bite, the carrot mugcake is perfect for those diners who have worked up an appetite but do not want to spend too much time in cooking something with for a long time.
Add to a mug a tablespoon of oatmeal and / or almond flour, an egg, the zest of a small carrot and spices such as ginger and cinnamon, nuts, a teaspoon of brown sugar and, depending on the size of the egg, a teaspoon of milk from your choice and mix all the ingredients.
Finally, add extra virgin olive oil (Arbequina variety especially since it is the perfect one for desserts) to the edges of a mug, mix well the ingredients that we have mentioned in the cup with a little more oil and put it in the microwave for 10 minutes. Could it be easier, cleaner and more delicious?
Susbcribe to our newsletter