On this occasion our dear friend and Chef José Cortés brings us a new recipe elaborated with quality and flavorful Mediterranean products. This one is prepared using a series of very interesting, as well as simple, gastronomic techniques.
The base of this salad is going to be a tomato sponge cake that will need the use of a siphon. Alternatively, a traditional sponge cake can be made by adding tomato paste to achieve a similar effect.
In addition to this sponge cake, we'll candied cherry tomatoes and an create a sorbet out of extra virgin olive oil, both very simple techniques that will perfectly complement a textured Mediterranean salad, unique and equally delicious.
Ingredients:
For the olive oil sorbet
Extra virgin olive oil
For the tomato cake
3 eggs (per ½ liter siphon)
80 grams of sugar
20 grams of flour
1 Tbsp concentrated tomato paste
1 tsp extra virgin olive oil
Salt
For the candied cherry tomatoes
100 grams of cherry tomatoes
2 Tbsp extra virgin olive oil
1 pinch of salt
1 pinch of sugar
Fresh thyme
Fresh rosemary
For the salad and its decoration
Mozzarella (you can also use burrata or buffalo mozzarella)
Basil leaves
Pansies (or other edible flowers)
Black olives Flor de Sal
Extra virgin olive oil
Tools:
500 ml siphon
Preparation:
Olive oil sorbet
Extra virgin olive oil sorbet is extremely easy to make. To make it, you only need to put this oil in a container and take it to the fridge.
Extra virgin olive oil is a liquid that coagulates when cold, which can provide a unique and interesting texture to many gastronomic dishes.
Tomato sponge cake
In a blender vase add the eggs, sugar and flour, as well as a pinch of salt, concentrated tomato paste and extra virgin olive oil.
Blend all the ingredients well so that there is a homogeneous mixture without impurities. This will prevent the siphon to be clogged.
Add this mixture to the siphon vase, close it well so that it doesn't lose the air that is going to be introduced with a load.
PRO TIP! When using a siphon, it's essential to use some type of fat so that the ingredients inside emulsify. In this case we have used the egg and extra virgin olive oil, both ingredients that contain healthy fats.
When squeeze the load in the siphon, you will hear the typical sound that indicates that the air has been introduced correctly.
Then it's important that you move energetically for a few seconds as if it were a shaker and then proceed by removing the load.
For the air to act and the mixture to take shape, it's necessary to put the siphon in the fridge for about an hour.
After this time, you need to use some plastic cups. Make 3 incisions at the base with the help of a knife.
Then, shake the siphon slightly again and add the mixture. Fill almost half the plastic cup with it.
Introduce this cup into a glass that will go inside the microwave at maximum power for about 40 seconds.
After this time, the cake will have risen and should then be placed on a wire rack to cool completely.
This action should be repeated until the content of the siphon is finished, getting between three and four portions of cake.
PRO TIP! You can dispense with the plastic cups and carry out this operation directly in the glass, having previously greased its edges with extra virgin olive oil.
Candied cherry tomatoes
For this next tomato texture, start by making cross cuts in the tops of the cherry tomatoes.
Next, scald these tomatoes, that is, introduce them in boiling water for about 30 seconds.
Then put these tomatoes in a container with cold water, to stop the cooking process.
PRO TIP! This process of briefly cooking the tomatoes and then submerge them into cold water will help to easily remove the tomatoes skin.
Once you have the tomatoes scalded and have removed their skin, put them in a container suitable for the oven.
Add salt and sugar looking for the counterpoint, as well as a generous portion of extra virgin olive oil.
To aromatize and add more flavor to the candied cherry tomatoes, add fresh rosemary and thyme.
Mix well and place the tomatoes in a preheated oven at 125ºC for about 50 minutes.
PRO TIP! To get the tomatoes to confit, the baking time and temperature are essential. They need to be cooked at a low heat for a long time.
To serve:
Once the cakes are cooled and the cherry tomatoes have been candied, you can plate the salad.
To do this, brake the sponge cake to give it a more rustic touch in the dish of choice and continue with the mozzarella, also broken.
Continue with some candied cherry tomatoes and a few frozen extra virgin olive oil balls with the help of an ice cream spoon.
Decorate with some basil leaves and edible flowers (in our case, pansies) to add more flavor.
To finish, season with a salt of black olives and add a splash of extra virgin olive oil to complete this delicious dish.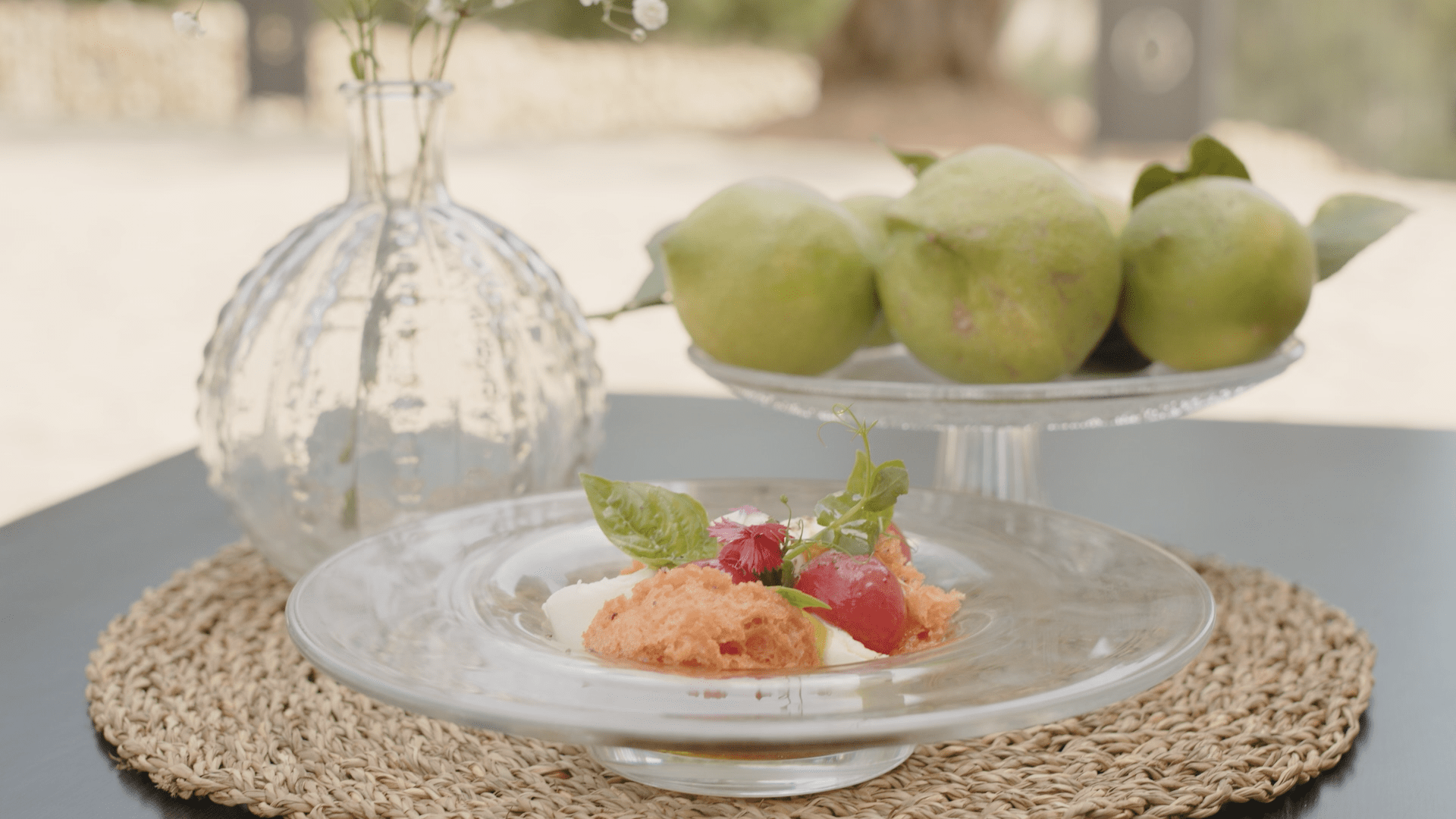 Susbcribe to our newsletter